Mexico's Bolsa Has Bounce
The recent market rally may well roll on
Elisabeth Malkin
The approach of presidential elections in Mexico is usually a sure sign that it's time for stock market investors to head for the exits. This time, before next July's vote, events are unfolding differently. Instead of leaving, investors are flooding back. The Bolsa has surged 22% since mid-October (chart). Indeed, in the three weeks since Oct. 15, the market regained most of the ground it had lost in the preceding three months.
Before the turnaround, of course, Mexican stocks were looking dirt cheap. But now, global and Latin American fund managers say they believe the market still has more positives working for it than negatives to drag it down. For starters, voters picked the Establishment candidate in the ruling Institutional Revolutionary Party's primaries on Nov. 7, seemingly a vote for political stability. The economy is in reasonable shape, too: The peso is solid, inflation--though a stiff 12.5%--is under control, interest rates are the lowest in five years, and exports are booming. Meanwhile, the U.S., Mexico's biggest market, is still growing.
Now the question is how far the rally has to run. Many analysts figure the market may need to stop for breath. But even after its strong advance, the market still looks pretty cheap, trading at just 11.4 times expected 2000 earnings, vs. 26.6 on Wall Street. So other analysts, such as Salomon Smith Barney Latin America strategist Geoffrey Dennis, are advising investors to keep buying--even stocks such as telecom company Telefonos de Mexico, which has risen nearly 45% since it announced on Oct. 18 a $100 million venture with Microsoft Corp. to develop a Spanish-language portal for Latin America. Telmex accounts for over 25% of the Bolsa index, so "what's good news for Telmex is good news for Mexico," says Damian Fraser, head of Mexico research for Warburg Dillon Read LLC in Mexico City.
Investment pros are now turning to consumption stocks, which are being driven by rising employment and a 1% to 2% increase in real wages. Among favorite buys are blue-chip retailer Cifra, which has risen 10.9% since mid-October, and media giant Grupo Televisa, up 20.2%. Cifra's margins should improve as it adopts the operations' management systems of its 51% owner, Wal-Mart Stores Inc. Televisa, up 76% this year in peso terms, has slashed its labor force and cut its costs to raise operating profits. Next year, it should gain revenues from increased spending on presidential campaign advertising. "We like [Televisa's] restructuring," says Grace Pineda, senior portfolio manager for Merrill Lynch Asset Management in Princeton, N.J.
ON THE BLOCK. Even banks, still in crisis after five years, are on the move. Bancomer, for instance, has risen 44.8% since mid-October and is now on Morgan Stanley Dean Witter's buy list. Since early summer, the government's Bank Savings Protection Institute has started to push through stalled rescue plans for five banks and says it will begin selling some off early next year. The first to go on the block will be Banca Serfin, the third-largest in terms of assets. Meantime, survivors such as Banamex and Bancomer are recapitalizing, and government programs to help debtors are finally cutting the numbers of past-due loans on bank books in general. Though the industry is not yet out of the woods, some analysts feel bank stocks are simply too cheap to pass up.
Stocks may falter a bit if investors take profits after the recent sharp price gains. But many analysts think the rally still has legs. That's partly because the leading challenger in the PRI's primary accepted his defeat, thus ending fears that he might stomp off in a huff and plunge the party into a damaging--and potentially election-losing--split.
If there's a risk facing the market now, it's one of overconfidence. Indeed, the market is behaving as if PRI nominee Francisco Labastida's victory over a divided opposition is assured and that his commitment to maintaining current economic policies, which the market likes, is unquestioned. "Everybody's hope is that there is always a first time" for a smooth election year, says Merrill's Pineda. "But you can't presume everything will be fine."
Indeed, six years ago, the PRI candidate at the time, Luis Donaldo Colosio, seemed headed straight for the presidential palace. Wall Street was dazzled by then-president Carlos Salinas' economic restructuring. But within months, the country was reeling from a peasant guerrilla uprising in the southern state of Chiapas, and Colosio's assassination. Investors pulled out, and Salinas used short-term borrowing to finance a spending bonanza to secure President Ernesto Zedillo's election. After less than a month in office, Zedillo devalued the peso, plunging the economy into its worst recession since the 1930s.
What's likely to be different this time around? Well, Zedillo has spent the past five years trying to armor plate the economy against political surprises. "Everything looks bulletproof," says Ernest W. Brown, chief economist for Latin America at Morgan Stanley Dean Witter in New York. For a start, the hot money that made Mexico so vulnerable in 1994 is long gone. Brown estimates that what with Mexicans parking their money offshore and foreigners fleeing the equity and debt markets in 1994 and 1995, some $50 billion left the country. Today, foreigners own about 40% of the stock market, but some analysts figure they're less likely to panic than they did before. "Investors are much more wary now," says Gray Newman, Latin America economist for Merrill Lynch & Co. in New York. "It's that kind of caution which may prevent us from going overboard."
Six years ago, of course, Mexico also had a crawling exchange rate. That allowed speculative pressure to build up and eventually force a catastrophic devaluation. The floating peso should prevent a recurrence. At about 9.5 to the dollar now, the peso seems strong, but investors don't seem worried that it is overvalued. That's because Mexico's current-account deficit is less than 3% of gross domestic product, and direct foreign investment of some $10 billion in 1999 will finance two-thirds of that. At the same time, strict control over public finances and a tight monetary policy have brought inflation down this year from 18% in 1998 and cut interest rates from 32% in the beginning of 1999 to 16.5% on Nov. 9. "Policy has been very disciplined," says Javier Murcio, Latin America economist for Credit Suisse First Boston in New York.
OIL RELIANCE. Still, there are economic risks, not to mention possible nasty political upsets. Mexico relies on oil revenues to finance about a third of government spending. A decline in oil prices would require serious belt-tightening--something any government is loath to do in an election year. With tax collection lower than just about any other major Latin economy, the government can't easily boost spending without borrowing more. "There's concern on the fiscal front that creative accounting might be used," says Merrill Lynch's Newman.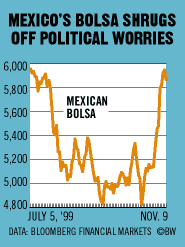 The massive bank bailout--$100 billion and still counting--is Mexico's weightiest problem. It will be a drag on the fiscal accounts for years. And banks won't start lending again until Congress modernizes Mexico's antiquated bankruptcy and loan-guarantee laws, a next-to-impossible task in an election year. Meantime, the country's dependence on the U.S., which buys close to 90% of its exports, makes it vulnerable to a slowdown north of the border.
For now, at least, investors are brushing off these worries. They figure Mexico's economic strength more than offsets its risks in the immediate future. But no one has forgotten what happened six years ago.