It's Snazzy, It's Sexy, It's...Philips?
A new focus on design adds sparkle to the electronics giant
William Echikson
Stodgy old Philips Electronics is sporting a new look. The Dutch company that invented the compact disk has always boasted top-flight technology, only to stumble when it came to packaging its innovations. But look at some of its recent products: sleek glass instead of metal tea kettles, cool-blue electric shavers, a space-age camera that attaches to computers, and fanciful alarm clocks. And the design effort seems to be paying off: Philips products are snagging big industry awards. More important, the design push has helped propel sales of Philips' consumer products up 7%, to $9.1 billion, in the first nine months of this year, about twice the industry average.
"INFERNO." The revival shows the way attractive design can perk up dowdy companies stuck in low-growth markets. Traditionally, engineers led the product development at Philips. Now, designers are brought in at the beginning. Philips' design staff has doubled, to 480, in the past six years. It also forges joint ventures with design leaders such as Italy's Alberto Alessi, and even takes on outside clients such as Gap and Renault. "Good technology is not an end in itself," says Stefano Marzano, the 49-year-old CEO of Philips Design. "People must have an emotional attachment to products."
The transformation started back in 1992, when Marzano moved from Milan, where he ran his own consulting company and worked as a professor at the Domus Academy, to Philips' headquarters in the provincial Dutch town of Eindhoven. The bureaucratic giant was reeling from losses and in the midst of mass layoffs. "It was like Dante's inferno," recalls Marzano. But he says the turmoil allowed previously heretical ideas to be adopted.
Marzano first jazzed up Philips' staid image by producing expensive, high-end products. He struck a deal with his old friend Alessi to make eye-catching household appliances, from a $170 pink coffeepot to a $125 lime-green kettle. Priced four to five times as high as ordinary appliances, these products accounted for only 1% of Philips' total appliance sales. "Although the impact on our turnover was minor, the impact on our brand's image was major," says Kris Bulder, a senior product manager.
SKIN-DEEP. The next step was to overhaul Philips' mainstream consumer products. A team in Hong Kong was given the brief to add sex appeal to banal boom boxes. It rounded off the sharp lines and brightened up the colors. "When I compare Philips and Sony, Philips used to look cheaper and childish," recalls Eric de Graaf, an analyst at ING Barings in Amsterdam. "Now, Philips is more fashionable and professional-looking, and that image is helping them increase market share in almost every consumer electronics market." The company recently rolled out a $165 electric shaver that moisturizes the face with cream. Called Cool Skin, it has helped push shaver sales up 30% this year.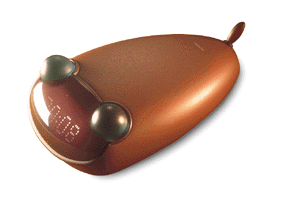 Of course, good looks alone can't turn a company around. Philips has improved its 1999 performance by ending a mobile-telephone joint venture with Lucent Technologies Inc., which resulted in a $500 million loss last year. But remaking the consumer-electronics and -appliances businesses, which account for 38% of the company's annual sales of $36 billion, has played a key role. Along with pursuing new design, Philips has trimmed staff and cut costs by shifting production from Europe to Asia.
The latest push is for better-looking high-tech products. After developing a Palm-like device called Nino that accepts voice commands, for example, Philips designers are now whipping up a mobile phone with Palm-like features. "Everyone here is inspired by Philips," says Gilles Coster, a designer at technology design outfit Absolut Design in Paris. The dowdy Dutchman has at long last become chic.
Before it's here, it's on the Bloomberg Terminal.
LEARN MORE