business
For Seagram, Sweet Music On The Net
By
Seagram (VO) an Internet play? To investment manager Robert Lyon, that's where the "hidden added-value" of Seagram lies. This global producer of whiskey and wine is fast becoming an entertainment company with major stakes in several entertainment and media companies, including 92% of PolyGram, a music giant. He's betting that once investors start to recognize the potential of Seagram's share of the music business--and how that could catapult the company into the Web music trade--the stock will double. Already, it has started to move, notes Lyon, president of Institutional Capital in Chicago, which steers some $11 billion. Down to 37 a share on Oct. 19, the stock had spirited up to 45 by Nov. 10.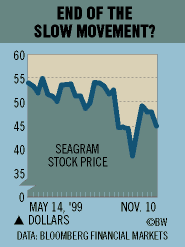 Several factors have put the wind behind Seagram, says Lyon, who has been buying shares. Its Universal Pictures unit, which has been losing money, is "now in a swing to return to profitability," he says. Seagram's Universal theme-park business should see its profits triple over the next three years, he figures. And a rebound in Seagram's Asian liquor sales is in the bag, he adds. "But the main event will be the music business, which already has 25% of the market," says Lyon. Seagram has formed an Internet-based label, to be promoted by AOL, USA Network, and Viacom's MTV unit. A joint venture formed by Seagram with Bertelsmann has a Web site, getmusic.com, that "will become the dominant music portal on the Internet and is bound to become the largest in the music business," says Lyon.
He expects the music business will be split off from Seagram's other operations and taken public by next year.
Seagram also own 45% of USA Networks, controlled by media mogul Barry Diller, which in turn owns 50% of Ticketmaster OnLine-City Search. First Call Research Director Chuck Hill notes that analysts are turning positive on Seagram: 12 of 17 analysts following it carry a "strong buy" rating.
Before it's here, it's on the Bloomberg Terminal.
LEARN MORE