Brazil: Looks Like A Recovery Coming
by
After touching the worrisome two-for-one mark in mid-October, the Brazilian real has rallied against the dollar. Moreover, concerns about further devaluation are waning amid improving economic prospects and Brazil's agreement with the International Monetary Fund to lower the IMF-required floor on international reserves.
The deal with the IMF gives the central bank more flexibility to control the currency, which has been free-floating since the huge January devaluation. Greater ability to intervene will reduce inflation risks and give the central bank more leeway to keep interest rates down.
Lower interest rates are crucial to stronger domestic demand, the key to a sustainable recovery. The unemployment rate, at 8%, remains high, and fiscal policy is shackled by the need to contain Brazil's huge public-sector deficit, which is one of the world's largest, at nearly 13% of gross domestic product.
Prospects for a gradual recovery with inflation remaining under control are good. The economy crawled out of recession in the second quarter, and weak industrial production in September suggests no improvement in third-quarter growth. However, most economists believe that recent cuts in interest rates, combined with the delayed effects of the real's devaluation on trade prospects, will support growth of about 3% next year.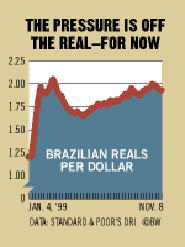 Inflation in Sao Paulo and Rio de Janeiro has accelerated a bit in recent weeks, but going forward, slow growth amid so much excess capacity will keep a lid on prices. Inflation is currently expected to end 1999 at 8%, and decline slightly in 2000, as the latest currency-related bump in inflation expectations passes.
Better trade prospects are another support for the real, amid a global recovery and stronger commodity prices. The January devaluation is already starting to lift export volumes. The current account deficit is projected to end 1999 at $25 billion, an amount that can be fully financed by foreign direct investment.
Before it's here, it's on the Bloomberg Terminal.
LEARN MORE