business
A Surge At Seagate
By
Shares of Seagate Technology (SEG), which have been in the doldrums all year, sprang back to life in late October, bolting from 27 on Oct. 22 to 35 by Nov. 10. Part of the reason was the company's decision to repurchase 50 million shares--some 25% of the stock outstanding--on top of the 48 million shares it bought back last year. But that's not the only thing fueling Seagate's recent wave of strength.
One investment pro, who has been accumulating shares, says at least two big companies have expressed interest in Seagate, the largest independent maker of computer disk drives. One is Japan's Fujitsu, he says, "whose disk-drive business has been struggling." He thinks Fujitsu is negotiating to buy Seagate "for a price well in excess of 55 a share."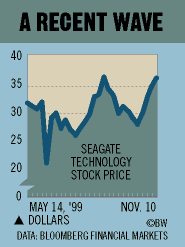 Once Fujitsu makes a move on Seagate, says this pro, the betting is IBM will step in to make its own offer. IBM makes hard-disk drives aimed at the high end of the market. Some 25% of Seagate's drive business is in the high-end, which analysts say is solidly profitable. Seagate is also a leading player in data storage, a crucial technology for gaining access to the Internet.
Seagate is undervalued, based on its assets and core business, says Vince Carino, president of Brookhaven Capital Management in Palo Alto, Calif. He figures Seagate's cash and marketable securities alone are worth $10.2 billion, or $49 a share. These include Seagate's stake of 60 million shares in Veritas Software, 3.8 million shares in Gadzooks, and 6.4 million shares in SanDisk.
Before it's here, it's on the Bloomberg Terminal.
LEARN MORE