U.S.: The Speed Limit Is Higher, But Growth Is Still Too Fast
Already-tight labor markets may start to feel the strain
by
Remember when states began to increase the speed limits on their highways? Goodbye, 55 miles an hour. Hello, 65. A similar loosening of boundaries seems to have taken place in the economy as well. Indeed, for four years now, the U.S. has enjoyed a combination of economic growth of more than 4% annually and benign inflation, despite the tightest labor markets in a generation.
The Commerce Dept.'s latest revisions to gross domestic product offer new hope that technology-driven gains in productivity have given the economy more room for faster noninflationary growth. Based on that new yardstick, sustainable GDP growth is now on the order of 3%. That pace is well above the 2 1/4% generally believed to be the standard just a few years ago.
The problem is that growth shows every sign of continuing to exceed even the 3% boundary at a time when labor markets are stretched thin. Third-quarter GDP powered ahead at an annual rate of 4.8%, and fourth-quarter growth of 4% seems likely, as pickups in exports and inventories fuel output. Growth of 4% will add to job market pressures. Labor force participation is actually flattening out, an unusual pattern in such a strong economy, suggesting that the supply of available workers is all but exhausted.
The good news is that, so far, labor costs are under control, based on the small increase in the third-quarter employment cost index. Labor costs, measured by the ECI, are up only 3.1% from a year ago. Any inflationary implications from that pace are easily being held in check by the 2.6% or so yearly growth rate of productivity that is suggested by Commerce's new data.
The crucial question in the outlook, though, is this: If the demand for workers causes labor costs to reaccelerate, will productivity growth speed up as well? It's a question guaranteed to keep Wall Street and Federal Reserve policymakers on edge for months to come.
The third-quarter GDP report made two key points about the outlook: First, businesses beefed up their inventories last quarter, mainly because demand had stretched stockpiles too thin (chart). Over the past year, business inventories have grown 3%, compared with the 7.2% advance in overall demand for goods. The growth gap between stock levels and demand has not been that great since 1996, just prior to the 1997 inventory buildup that added sharply to GDP growth.
Second, exports have clearly turned the corner, and they will continue to support growth in coming quarters, especially in the manufacturing sector. Foreign shipments jumped at a 12.4% annual rate last quarter, three times the second-quarter pace, after posting outright declines in four of the previous five quarters. Growth from a year ago has sped up to 6.4%, the best showing since early 1998, when exports first started to slow. And the pace will continue to accelerate, as overseas economies gain momentum.
The accelerations in exports and inventories are reflected in the October purchasing managers' report. The purchasers' index of activity in the industrial sector--a composite of production, orders, inventories, employment, and delivery speeds--dipped to 56.6% last month, after jumping to a five-year high of 57.8% in September. Still, the index began the fourth quarter higher than its third-quarter average of 55.1%.
Stronger global markets and increased industrial activity in the U.S. are showing up as rising prices of raw materials and slower delivery times (chart). More purchasers reported paying higher prices in October than at any time in the past four years, and only part of that increase reflected higher oil prices. Also, distribution channels are tightening up. The number of purchasers reporting slower delivery times was also the highest in four years.
At the same time, domestic demand remains sturdy: Consumer spending was up 4.3% last quarter, and business investment in equipment and software rose 21.7%. Going forward, higher interest rates and the flattening out of stock prices are likely to have some impact on household purchases. But the cooldown will follow a scorching 5.8% pace in the first half. Moreover, any slight slowdown in consumer spending will be offset by faster growth in inventories and exports.
Quarterly trends in capital spending will be harder to gauge because of Y2K spending patterns. The near-doubling of the third-quarter pace of equipment and software outlays, compared with the second-quarter pace, suggests a pre-Y2K rush of spending that could eventually turn into a drag on growth. But there is no sign that the long-term trend in equipment and software spending is about to trail off anytime soon.
But with pressure from overall demand unlikely to fade, can the labor markets bear up under the stress without wage pressures starting to build? So far, they show no strain (chart). The employment cost index in the third quarter increased a moderate 0.8% from the second quarter. The 3.1% yearly growth remains below the 3.7% peak touched a year ago, even though the unemployment rate has fallen since then.
However, the slowdown in wage growth most likely reflects the delayed effects of the 1997-98 drop in energy prices, which helped cut overall consumer inflation in half, from 3.2% to 1.6%. Most economists believe that cost-of-living adjustments to many wages ratcheted downward in response to lower inflation, pulling down wage growth. If so, then wages and salaries could be ready to pick up again, with overall inflation now having sped up to 2.6%.
Not only that. Benefits costs, about 28% of total compensation, are already accelerating somewhat. They are growing 2.7% annually, up from 1.9% two years ago, and the pace will pick up as health-care costs continue to grow faster.
Moreover, other forms of compensation, such as signing bonuses and stock options, are becoming increasingly necessary to hire and retain workers, and they are not included in the ECI. The Labor Dept.'s measure of compensation used in its productivity report does include these kinds of pay, and growth in that gauge is more than a full percentage point faster than the ECI.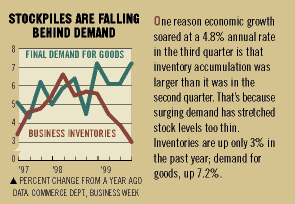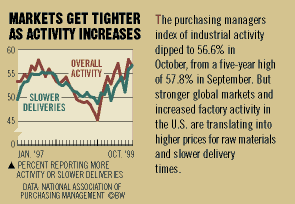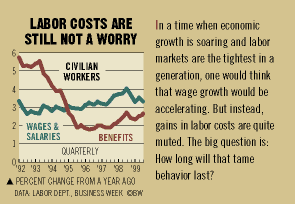 In coming quarters, much will depend on productivity growth, and new Commerce data suggest that third-quarter productivity grew rapidly. However, economists at Goldman Sachs & Co. show that if the economy were to slow to 3% growth next year, then productivity would likely slow by a quarter to a half of a percentage point, as well. But even if the economy did slow to 3% growth, that would do little to loosen up labor markets and forestall wage pressures.
The message here is simple: In 2000, the crucible for this fast-growth, low-inflation expansion will be the labor markets. As long as the economy passes the labor-market test, it will continue to amaze.
Before it's here, it's on the Bloomberg Terminal.
LEARN MORE