business
The One Year Itch At Daimler Chrysler
Its reorganization may not be enough to bridge culture clashes
Joann Muller
It's only a year since Daimler Benz took the hand of Chrysler Corp. in a $36 billion transatlantic marriage, and already the partners have decided they'd be better off with separate bedrooms. On Oct.29, DaimlerChrysler Corp. AG announced a reorganization that will give more autonomy to the company's U.S. automotive operations.
Co-CEOs Juergen E. Schrempp and Robert J. Eaton portrayed the changes as "a logical evolution" as they create three automotive businesses: Mercedes-Benz, Chrysler, and commercial vehicles. But the move also soothes the growing tensions between the partners that had prompted the exit of many Chrysler execs and helped drive down DaimlerChrysler shares as investors worried about a lack of post-merger synergy. "These companies always underestimate the level of cultural difficulties," says David E. Cole, director of the University of Michigan's Center for the Study of Automotive Transportation. "They always say we'll deal with it up front, but they never do."
So, has this marriage been saved? Many analysts believe that Schrempp's promises of autonomy for Chrysler management are largely for appearances' sake. The skeptics want to see more technology sharing between the partners and a greater effort to combine functions and cut costs. "We are definitely at another stage where the new company has to prove itself again," says Merrill Lynch & Co. analyst John A. Casesa.
One of the most positive signs in the Oct. 29 announcement was the news that Chrysler new-product chief Thomas C. Gale will stay. Detroit had been buzzing with reports that he would be the next to go, after former Chrysler President Thomas T. Stallkamp quit in September. Hanging on to Gale, after so many Chrysler design engineers had bolted to General Motors Corp. and Ford Motor Co., is a sign that Chrysler can keep the products coming.
In the near term, however, analysts still worry about DaimlerChrysler's performance. Third-quarter earnings were a pleasant upside surprise after the disappointing second quarter, but the stock is still depressed--off 31% from its high. "The question is, where did all the merger synergies go?" says Rod Lache, who tracks the automotive industry for Deutsche Banc Alex. Brown.
And now there's another question: With the U.S. auto market showing signs of slowing--each of the Big Three saw bigger-than-anticipated sales declines in October--how can Chrysler boost earnings? "Everything's going against them next year," says Lehman Brothers analyst Glenn Chin. "Industry volume is coming down, and they don't have that many new products." Meanwhile, losses in the company's smart car division will continue to depress European profits for the foreseeable future.
DANGEROUS GAP. That puts pressure on new products such as the Chrysler PT Cruiser, a $20,000 family sedan built on a small-car platform, but said to provide the roominess of a minivan. Its looks are radical--reminiscent of a gangster's getaway car--so analysts aren't sure how many customers will bite when it hits the market in February. But it will bring people to the showroom.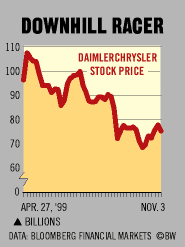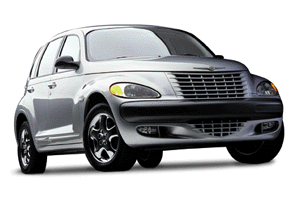 There, Chrysler hopes, they will stumble on other new models--many with far fatter profit margins. But there will be a dangerous gap until redesigned minivans arrive late in the year. In the interim, Chrysler is likely to keep throwing rebates and incentives at customers who might be tempted by Honda and Toyota's more up-to-date models. Over the short run, the company could also lose some sales by killing the Plymouth marque--a move announced on Nov. 3.
For new U.S. President James P. Holden, the job is to restore the momentum that made Chrysler such an attractive merger candidate in the first place. "There's no real discussion anymore of...who married up, who married down," says Holden. "That whole scenario, as far as we're concerned, is behind us." It's also clear the honeymoon is very much over.
Before it's here, it's on the Bloomberg Terminal.
LEARN MORE