business
I Am Cyber Woman. Hear Me Roar
Men online are about to be overtaken in numbers--and clout
Linda Himelstein
Marlene McDaniel, chief executive of Web upstart Women.com Networks Inc., recalls a time not so long ago when Internet heavyweights like America Online Inc. virtually blew off the female half of the population. "We were told they just didn't think there was a market for women on the Internet," says McDaniel.
How times have changed. This year, women will achieve near-parity with men in sheer numbers on the Net, accounting for 49% of the online population in the U.S., says researcher Jupiter Communications. And since six out of 10 newbies on the Net are female, Jupiter estimates Janes will outnumber Johns online in less than two years.
"CRITICAL MASS." This flood of women is forcing the Net to change--from the kinds of Web sites being launched, to how and where advertisers pitch their wares, to how information is delivered. Forget about cars, computers, and sports. This year what's hot is family, beauty, health, home furnishings, and pets. "A new set of commerce categories has been created," says Candice Carpenter, CEO of iVillage.com, a site geared toward women. "This was made possible by women getting this critical mass."
Now the trick will be inducing women to fork over cash. Today, men still spend more time and money in cyberspace than women. Indeed, women surf the Net 6.9 hours a month, vs. 10.4 hours for men, says researcher Media Metrix Inc. Jupiter also finds that the average male shopper spends more--$536 online in 1998 vs. $439 for the average woman. But experts expect that spread to narrow as more sites offer women what they want in the ways they want it.
So what do women want, Web-wise? A study to be released on Nov. 10 by Women.com, in conjunction with Procter & Gamble Co. and Harris Interactive, attempts to answer that question. It finds that, among other things, time-pressed women tend to be very focused when seeking information or performing tasks on the Web--very much the in-and-out approach. Men, on the other hand, seem to prefer surfing. Thus, the survey concludes, women prefer a handful of organized sites over flashy ads or e-mail. "The best thing you can do for women is to streamline," says Fiona Swerdlow, an analyst at Jupiter. And when a woman finds a site that meets her needs, she also tends to be more loyal than male Netizens, the study notes.
Perhaps most revealing and useful for marketers, the study finds that 83% of wired women are key decision-makers behind major family moves in finances, health care, and education. So as women gain more confidence doing business online, they will eventually be the Net's biggest spenders.
With this in mind, advertisers are on the move. This year Toyota Motors Sales USA Inc., for example, traded in some of its banner ads to sponsor an area on Women.com. That area features tips on eating right on the road and how to keep kids entertained. "A year ago we wouldn't have been doing a special microsite with Women.com," explains Toyota's Interactive Marketing Manager June Okamoto. "But the numbers are too strong not to be in that space."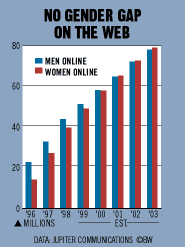 Of course, simply targeting women isn't an automatic recipe for success. Women.com's stock has soared 80% above its initial offering price on Oct. 14, and the site is one of the fastest-growing on the Internet. But trailblazer iVillage has struggled in its four years of existence from management turmoil and some early not-well-received strategy calls, say analysts. Its stock is down to $23 a share, from a high of $130 earlier this year, and its losses are mounting.
Still, sites focused on women, including Oxygen Media and Martha Stewart Living, are generally expected to flourish. And the rest of cyberspace is working at attracting the female population, too.
Take AOL, whose audience was 84% male five years ago. It is now dominated by women and channels dedicated to lifestyles, shopping, and family. AOL's most popular keyword? Slingo, a bingo and slot machine game with more women players than men.
Before it's here, it's on the Bloomberg Terminal.
LEARN MORE