business
Wine Growing Brits Flock To Gaillac...But For Locals, It's Sour Grapes
Jane Knight
It's harvest time, and Englishman Alex Taylor is taking off his socks again. For the past eight years, hehas trampled his own syrah grapes at the Canto Perlic vineyard in the South of France's up-and-coming Gaillac region. "It's a good selling point. We do everything by hand or foot or by the skin of our teeth here," he says.
The 59-year-old Taylor isn't the only Briton lurking in this peaceful French backwater, whose gently rolling hills are covered with vines and sunflowers. Gaillac has always been popular with British buyers, says London-based commercial property search agent Richard Edds of Leisure & Land. Now, there are more would-be owners than there are properties. He's in town putting together a $5.7 million deal for 175 hectares of vines that will add another British vigneron (vineyard owner) to the half-dozen already here.
Little-known among France's vineyards, Gaillac is gaining an international reputation after a regional campaign to improve its vines started to bear fruit in 1993. "It's very good value for money," says wine writer Paul Strang. Since 1993, Gaillac sales have increased by 10% annually, to 612,000 hectoliters last year. More important, prices have risen, too. Gaillac-labeled red wine went up by 16% in the 1997-98 season.
The vineyards, though, are still cheaper and more accessible to foreign ownership than those of many other regions in France, enabling the British to make their dreams come true. But Taylor, a hobby vigneron who makes 15,000 bottles on six hectares, says he is just now turning a small profit. "We only wanted to make wonderful wine," he says, sipping his Cuvee Claire label, named after his wife. At the other end of the scale, Edds says that revenue from the 1.3 million liters of wine produced on the land he is negotiating for should soon double, to $3.3 million.
Edds, who also is an investment consultant, says he dissuades clients from buying on a shoestring. Earlier this year, he put together a rental package to allow Alistair Moon to work 17 hectares of vines. In the fields with half a dozen grape pickers, Moon, 58, says that despite a few setbacks during his first harvest, he is confident of developing a sound business venture. He'll sell bottles for $5 retail, almost three times what they cost to produce. A flying instructor with no winemaking experience, he relies on French workers, like some of his colleagues who also get a hand from skeptical neighboring vignerons.
HARD WON. "The English don't understand how to make wine," says Jacky Nelaen, who runs Domaine de Durantou for its British owner. Perhaps because of such opinions, the vignerons export much of their wares, building up client bases from their Christmas card lists. Former stockbroker Nicholas Fraser sells most of his 100,000 bottles of Domaine de Perches wholesale in Britain. But sales to the French are increasing, and Scotsman Alan Geddes has even carted off a handful of prizes for his Chateau de Mayragues, scooping a 1997 national award for sweet wine. It's a hard-won glory, says Geddes: "You must first be a farmer, then a manufacturer, then a salesman, and all the while you're coping with paperwork."
It's not just the vineyards that have lured the British to Gaillac. Hundreds have moved into the surrounding Tarn area, just a few hours from both the Mediterranean and the Spanish border. Drawn by the climate, the wine, and lower property prices than at home, they have set off a run on old stone houses. Taylor recently agreed to sell his vineyard and four-bedroom farmhouse for nearly four times what he paid for it in 1991. And prices of some properties in the prime tourist area have gone up by 300% in the past five years, say real estate agents.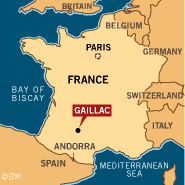 "When we have something we think is too dear, we sell it to the English," says Aline Piris of the Cabinet Alary agency, adding that there's little left on the market. The British have certainly made their mark on the sleepy town of Gaillac and its few thousand inhabitants. British newspapers are readily available, and on certain nights, English is more prevalent than French at the Tex Rock Cafe in the central square. While the locals are friendly, there are murmurings. "The French can no longer buy houses here," grumbles shop assistant Jacques Chabbert. "What's happening is nothing short of colonization."And now the vineyards? Zut alors!
Before it's here, it's on the Bloomberg Terminal.
LEARN MORE