When Best Buy (BBY) was last mentioned in this column, on Oct. 20, 1997, the stock was trading at 7 a share (adjusted for two 2-for-1 splits). Since then, this retailer of consumer-electronics products and home-office equipment has never looked back. It hit 31 by yearend 1998 and then rocketed to 80 by July, 1999. When the stock faltered later in the summer, bears rushed to forecast the end of Best Buy's long bull run. Is this it?
Fans of Best Buy think the best is yet to come. With the stock down to 50 3/4, they see it as a "golden opportunity" to buy on the cheap. Bill Harnisch, president of investment firm Forstmann-Leff International, which owns 9% of the shares, says "big things are happening at Best Buy that will triple the price in three years and help the company to keep beating analysts' estimates."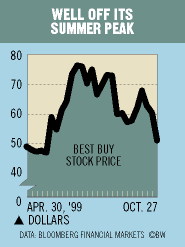 One of them is an Internet operation, scheduled to be launched in February, that will allow Best Buy to penetrate markets worldwide. He expects the Internet unit will be spun off and greatly add to shareholder value. Says Mark Mandel, an analyst at investment firm ABN-AMRO, who rates the stock a buy: "We expect the [bestbuy.com] site to be highly competitive, offering a broad array of consumer electronics, as well as taking advantage of Best Buy's brick-and-mortar assets."
The other potentially huge operation will be "specialized" service: This should make "quite a splash with consumers," says Harnisch, because its service people will help install, operate, and repair whatever Best buy sells to the public. The service will generate a potential $1 billion in revenues, he says. Harnisch sees Best Buy earning $1.61 a share in fiscal 1999 (ending next Feb. 25), $2.10 in 2000, and $2.80 in 2001.
Before it's here, it's on the Bloomberg Terminal.
LEARN MORE