Vladimira Glatzova/Czech Republic: Capitalism's Legal Guardian
James Drake
Vladimira Glatzova juggles twin careers as mother and the Czech Republic's most powerful commercial lawyer. If only her country's rulers had exercised the same kind of discipline she applied to her sons, quips Glatzova, the Czech Republic's infant democracy might have grown up a bit quicker.
The problems started with the first post-Communist government. Former Prime Minister Vaclav Klaus and his team did not understand that "there have to be rules, and they have to be applied," says Glatzova. Investors who took part in the government's privatization drive soon discovered that they lacked basic legal protections, and were at the mercy of rapacious bankers and businessmen. The outcome damaged the country's credibility and stunted growth.
Glatzova herself was ready for the "Velvet Revolution" of 1989. Her own education in Western-style capitalism had begun in the early 1980s, when she landed a job at the government office responsible for intellectual property rights. Her work brought her into contact with companies such as Coca-Cola Co. The daughter of a Prague pediatrician and a lawyer, Glatzova then headed to law school herself.
She had just finished her studies when the Communist era ended. As the government began selling off state companies, she advised both foreign and domestic clients. In 1992, she headed for London for courses in banking and corporate finance. Stints at British and German law firms followed.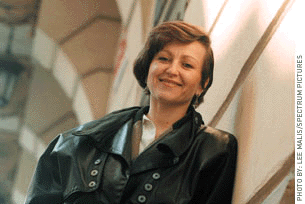 When Glatzova returned to her homeland two years later, she found that no Czech law firms were equipped to handle both international and local law. So she set up her own firm, Glatzova & Co. Mergers and acquisitions and syndicated loans now make up 70% of her business. But Glatzova still spends a good chunk of time banging her head against a bureaucratic wall. "We have a new legal system, but the judges are the same: They work in the same slow, pedantic manner they always did," she complains.
Chances are some of Glatzova's proteges will one day take their place. All 13 lawyers working for her are under the age of 30. Each recruit is shipped off to London for up to nine months of work-study. "I'm investing in my own future," explains Glatzova. And, quite possibly, her country's as well.
Before it's here, it's on the Bloomberg Terminal.
LEARN MORE