Thomas Brussig/Germany: Comedy Of Terrors
Jack Ewing
When you think Berlin Wall, you think guard towers, land mines, Richard Burton dodging searchlights in The Spy Who Came in From the Cold--unpromising terrain for a comic novel. But East Berliner Thomas Brussig disagrees. "East Germany makes a good story," the 34-year-old novelist says. "There were so many absurd situations."
Brussig's original take has made him one of Germany's hottest authors. His 1994 novel set around the fall of the Berlin Wall, published in English as Heroes Like Us, was a best-seller; a film is scheduled for local release in November. Brussig also wrote the screenplay for the just-released film The Short End of Sunshine Alley, a comedy about puberty in the Wall's shadow, and turned it into a novel as well. Der Spiegel, the German newsmagazine, recently put him on the cover with up-and-coming poets and novelists.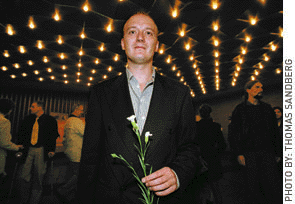 Through Brussig's eyes, the Berlin Wall is more ridiculous than threatening. When a border guard's stray bullet strikes a youth in the chest, a Rolling Stones album stuffed in his coat saves him. Far from relieved, the teenager is enraged that his rare prize from the West has been ruined. "I don't write about the Wall as something fearful, rather as something that was degraded to an everyday object," Brussig says.
He is part of a new generation of German authors whose writing is less burdened by the past than postwar authors such as Gunter Grass, who won this year's Nobel Prize for Literature. "My books are not about how East Germany was, but about how it's remembered," he says. The author, who still lives in eastern Berlin, submitted his first novel to a publisher the day the Wall came down. If it weren't for that event, Germans might not be enjoying Brussig's works today.
Before it's here, it's on the Bloomberg Terminal.
LEARN MORE