Thierry Desmarest/France: Vive Le Private Sector
by
In the final weeks of 1989, French oilman Thierry Desmarest had little time to consider Eastern Europe's political convulsions. At 44, the soft-spoken but determined executive had just been named head of exploration at Paris-based Total. "And for us, that means the Middle East, Latin America, and Asia, for the most part," Desmarest says. "So I wasn't focused on the Wall."
Desmarest now readily acknowledges that Europe's post-Wall economic changes profoundly influenced Total. Most of all, the state's retreat from key economic sectors throughout Europe has allowed managers such as Desmarest to pursue strategies that would have been unthinkable before. A decade back, he notes, Total and Elf Aquitaine, the other French oil giant, were more or less playthings of the French state. Paris owned the majority of Elf, and its 35% stake in Total meant it could impose its choice as chief executive, which it often did. For years, Paris toyed with the idea of merging the two groups.
That's ancient history. In the last two years, Desmarest has transformed Total through a series of high-profile deals. Anticipating a consolidation in the energy industry, Total took over Belgium's PetroFina--and became TotalFina--in late 1998. Desmarest followed up with a hostile $44 billion bid for Elf, which the company ultimately agreed to on Sept. 13. The moves were possible because the French government withdrew from both Total and Elf in the early 1990s, retaining just a tiny golden share in Elf. Now, TotalFina is the world's fourth-largest energy group. "This merger was easier to do after the government got out," Desmarest says of the Elf deal.
Although Desmarest graduated from the Ecole Polytechnique, one of France's elite schools, he's a down-to-earth oilman who cut his teeth in such locales as Algeria and Argentina. And he has demonstrated an ability--still rare among French CEOs--to make his company's case directly to fund managers. That's key: U.S. and British institutions hold as much as a third of TotalFina's capital. Had Desmarest not won them over, he could never have pulled off the Elf deal.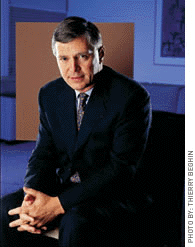 Desmarest, whose nickname in the company is le petit prince, has been pushing the envelope in other directions, too. Total's dealings with Iraq have irked policymakers on both sides of the Atlantic. And in 1997, Total became the first Western oil group to ink a deal with Iran.
Although he has just inked a big deal, Desmarest isn't about to rest on his laurels. More linkups, he says, will be inevitable as second-tier oil groups such as Italy's ENI realize they don't have the size to compete. "Competition and globalization are speeding up," says Desmarest. Maybe the same can be said of the man himself.
Before it's here, it's on the Bloomberg Terminal.
LEARN MORE