The Party Is Over On The Bourses
And Beijing's market manipulations are largely to blame
By
On the electronic boards of China Southern Securities' trading floor in Beijing, the lights are almost all green--the color that represents falling stock prices. It's a familiar hue in China these days: The Shanghai and Shenzhen A-share exchanges have lost almost 15% of their value from the soaring heights achieved over the summer. "I've got to get into a new business," says a 37-year-old trader named Zhao. He may be right. In the past few months, Zhao has lost some $6,000--a quarter of his initial investment since he gave up his foreign-trade consulting business two years ago to play the market full-time.
The party's clearly over. And a fundamental problem is becoming painfully evident as the hangovers mount among investors. Those charged with overseeing China's stock markets too often see stock listings as vehicles to bail out hurting enterprises and relieve bank burdens--and not as a way to allow strong companies access to capital. As a result, markets are awash in companies stuck with inefficient management and excess inventories and workers. Many of them are money losers desperate for cash. "Market regulators in China have contradictory functions," says Fang Quan, deputy editor of Securities Market Weekly, the leading trade journal. "One is to supervise, but the other is to raise money for the government."
Beijing spent months this past spring and summer pumping up the market by hailing equity investment as patriotic and necessary to revitalize the ailing economy. It worked--for a time. The main exchanges in Shenzhen and Shanghai roared up 80% in May and June, fueled chiefly by individual Chinese investors. But no propaganda campaign can obscure the grim reality: Of the 1,000 or so companies listed in China, almost all are ailing state enterprises.
Given that Beijing views the equity markets as key to the reform of state enterprises, the problem isn't going away anytime soon. Eager to raise cash, Beijing plans a rash of new listings in coming months. That alone could sink the market even more. But on top of that, insider trading is rampant; listed companies regularly manipulate prices with false profit and loss accounts. It's already damaging the markets' reputation--and effectiveness. "The quality of listed companies is very bad, and most newly listed enterprises are no better," says Fang. "Investors are losing faith."
Take Shougang Group, a massive Beijing metals company. In November, Shougang plans to float a 6% holding, worth $360 million, on the Shenzhen exchange. Shougang claims to have eked out a $113 million profit last year on revenues of $4.4 billion. But the company is saddled with a staggering 220,000 underemployed factory workers. Although managers hope to list the best parts of the company, analysts expect little demand for the shares. Shougang may now have to delay the long-planned listing--a judgment not all state enterprises are wise enough to make.
Beijing is using every lever it can to assert control. Officials are again trying to talk the market up. To stimulate liquidity, it recently announced that it would allow the creation of $4.6 billion of new mutual funds. In late October, the China Securities Regulatory Commission, the market regulator, ruled that insurance companies could invest in such funds--allowing them into equity markets for the first time. Shanghai's A exchange jumped 3% on Oct. 27 as a result.
Zhou Zhengqing, chairman of the regulatory commission, also promises that high-tech companies with strong growth prospects will have top priority in upcoming listings. Beijing has also announced a quota system to avoid flooding the market. "We have to maintain the stability of the market," said Zhang Fan, a deputy director in the CSRC's research department. He did not explain how the quotas will work.
BUYBACKS. Meantime, investors worry that regulators are ditching proposed rules meant to curb market speculation. Beijing now encourages state enterprises to participate through share buybacks. It is also allowing brokerages to invest borrowed funds and to use stocks as guarantees on the debt. Intended to add liquidity, these policies also tend to encourage the insider trading and speculation that already blight the market.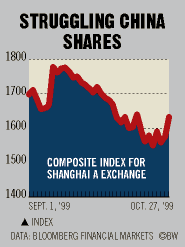 Beijing hasn't dropped its guard completely. By the end of next year, listed state enterprises must have independent supervisory boards that monitor performance and ensure proper financial reporting. In Shanghai, stock exchange head Tu Guangshao has launched an extensive survey of listed companies, requiring them to disclose everything from ownership structure to performance indicators such as returns on equity. Corporate governance guidelines are due from Beijing next year. "The most important trend in China is getting the capital markets going and improving corporate governance," says Andrew T.L. Sheng, chairman of Hong Kong's Securities & Futures Commission.
Beijing still has a long way to go. And apart from the new rules it plans, regulators will have to change their thinking as to their role in the markets. Until they do, China's 40 million investors are likely to keep voting with their portfolios--and none of Beijing's efforts will lift the markets back up.
Before it's here, it's on the Bloomberg Terminal.
LEARN MORE