Thailand: Finally Off The Critical List
by
After shrinking 10% in 1998, Thailand's economy appears to be on the road to recovery. But slow progress on cleaning up the banking sector and on making needed reforms could be a stumbling block.
For now, the signs look good. Real gross domestic product in the first quarter edged up 0.8% from a year earlier, the first advance in two years. Second-quarter GDP bested that, rising 3.5%, but the pace was disappointing. Third-quarter data look more encouraging. With August manufacturing output up a sharp 17.7% from a year ago, analysts expect GDP to grow 6% to 8% this quarter. The International Monetary Fund is projecting 4% growth for all of 1999 and says that the pace could top that both this year and next.
Both domestic and foreign demand are improving. Consumer spending is set to rise in 1999 for the first time in three years, spurred by a cut in the value-added tax, from 10% to 7%, and by a drop in the prime rate, by half, to 8.5%. Exports are also recovering, led by cars and electronics. August exports advanced 15%, although imports rose 25%, reflecting a pickup in domestic demand and higher oil prices. Still, the trade balance is firmly in surplus, and any decline is expected to be gradual, allowing international reserves to continue rising.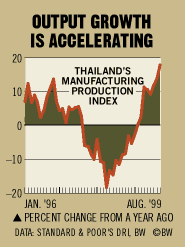 The biggest obstacle to recovery is the slow pace of restructuring, especially the sale of troubled banks. Nonperforming loans now account for 50% of banks' assets, and about one-third are nonrecoverable, says Thailand's finance minister Tarrin Nimmanahaeminda. Also, the country's public debt has risen from 16% of GDP in 1996, to 40% in 1998. For now, the financing burden is not great, but heavy public debt could eventually handcuff fiscal policy.
The good news is that private-sector debt is coming under better control, and external debt is falling. The Thai government has said that it will not require any further IMF funds. It has drawn down $14.1 billion of its $17.2 billion loan package, and it is expected to begin making repayments earlier than expected.
Before it's here, it's on the Bloomberg Terminal.
LEARN MORE