business
South Korea: Boom Or Mirage?
The tottering financial sector could wreck Korea's recovery
Pete Engardio and Jennifer Veale
It's almost enough to renew one's faith in Asian miracles. Surpassing anyone's expectations of just a year ago, the South Korean economy is experiencing a certified boom. Factories churning out everything from computer chips to cars are scrambling to keep up with soaring export orders and hot domestic demand. Stores are jammed. Corporate earnings are surging. Indeed, the economy is so strong that the state-run Korea Development Institute, which has hiked its 1999 growth forecast from 2% at the beginning of the year to 9% now, is concerned it could overheat. "Without a doubt, the recovery is real," says Merrill Lynch Korea equity research director Kim Hun Soo.
JEKYLL AND HYDE. But stray into the financial sector, and the jubilation over the real economy quickly dissipates. The torrent of good news has not been enough to halt a steady, three-month slide in Korean stocks, down 20% since their July 9 peak. Some foreign bankers even warn that a new financial crunch could lurk around the corner, the type of crunch that could destroy consumer confidence and unravel the recovery.
The Jekyll-and-Hyde nature of Korea's economy seems surprising, given the widespread praise Seoul has earned for its pioneering economic reforms. Under the whip of President Kim Dae Jung's chaebol-busters, most big conglomerates are on track to meet the government's requirement of slashing their debt-to-equity ratios from more than 400% before the crisis to less than 200% by yearend. Korea has paid off all but $5 billion of the $16 billion in emergency credit it received from the International Monetary Fund since 1997.
But the Kim government has yet to solve the two major problems that haunt investors: the debt crisis at insolvent Daewoo Group and the prospect of a sell-off hitting the investment trust industry, which holds a hefty $129 billion in bonds. With critical National Assembly elections approaching in April, Seoul now seems loath to take any measures that will trigger new layoffs or financial losses.
But Daewoo remains under severe government pressure to restructure. If a deal is not struck in the coming weeks, Daewoo's foreign lenders could push the group into default and withdraw from other chaebol as well. With the value of Daewoo's businesses deteriorating fast, some analysts estimate that Korean banks will have to write off up to 70% of their Daewoo exposure--forcing the government to pony up an additional $10 billion for bank balance sheets on top of the more than $40 billion it has already shelled out.
Fears of a Daewoo collapse are heightening worries about the solvency of several investment trusts that hold some $20 billion in Daewoo bonds and other debt instruments. Millions of ordinary Koreans invest in these mutual fund-like trusts, and the government is reluctant to see them lose money. So it wants the banks, securities firms, and trust companies to absorb the losses. Taxpayers, too, may have to chip in.
Investors currently can redeem only 50% of their funds' holdings in Daewoo bonds, but that figure rises to 80% on Nov. 11. The current market slump reflects worries that investors will rush for the exits before the bonds are marked down to market prices. As it is, they're still carried at full value in the unit trusts. Around the same time, the penalty for early redemption on a hot equity mutual fund, the Buy Korea Fund, will be dropped. All this makes a liquidity crisis possible, according to economists such as Morgan Stanley Dean Witter's Andy Xie.
The government hopes its plan will be enough to ease market jitters. But if a panic looks likely, the most likely response would be to extend a government guarantee on Daewoo bonds, effectively nationalizing the debt. The announcement by Daewoo's main bank, Korea First, on Oct. 27, that Daewoo Corp.'s assets were worth 40% of their stated value, is only fueling uncertainty.
Seoul's inability to defuse such time bombs helps explain the two sides of the Korean economy. "It's management on the brink, and they aren't doing a bad job of it," says Bertrand Pointeau, Korea general manager for consultants Bain & Co. "But the situation is very precarious--and that makes the present atmosphere unconducive to investment."
Still, the rebound in the real economy is hard to refute. There's little denying that the Korean corporate sector has benefited greatly. Merrill Lynch's Kim says that earnings per share of the 45 major Korean companies he tracks, which include LG Chemical, Kookmin Bank, and Samsung Electronics, are expected to surge 258% so far this year and 69% in 2000.
The turnaround at Samsung Electronics stands out. After plunging nearly 30%, to $15.3 billion, between 1995 and 1997, sales are expected to pass $20 billion this year. Profits will nearly be back to the record $3.24 billion posted in 1995, compared with just $260 million last year. Export growth, powered by strong global demand for Samsung's products, is behind the sales boom. Domestic demand is no slouch either. "We are doing even better than before the crisis," says Bae Byung Kwan, executive vice-president for Samsung's telecom business.
The biggest contributor to Korea's rebound is the export surge that resulted from a cheap won, the loss of Japanese competitiveness due to the yen's 30% rise against the dollar, and cyclical global rebounds in demand for memory chips, steel, low-priced cars, and petrochemicals. A full 40% of Korea's growth can be attributed to this year's 16% jump in exports.
The government has also helped juice demand by running a budget deficit close to 5% of the size of the economy and keeping interest rates low, at about 9%, compared with 25% during the peak of the crisis. Kim recently indicated an additional $1.6 billion will go to construction projects to generate more jobs.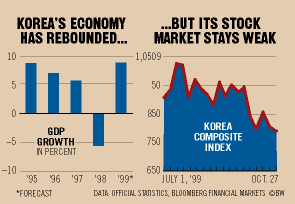 RISKY. The Korea Development Institute warns that recovery is at risk unless Seoul slashes the budget deficit to 3%. It also has privately urged Seoul to hike rates. While inflation is now a mild 0.8%, the KDI warns that it could rise to 3.2% next year. Korean economists say the Blue House reacted angrily to the criticism. "Inflationary pressure is clearly there," warns one economist. "The government is playing a high-risk game."
If Korea can avoid new financial shocks or a global slowdown, many economists agree it can grow by at least 5% for the next two or three years. But until Korea is out of the woods, the recovery will continue to be a lot like hang-gliding: moments of exhilaration accompanied by sheer terror.
— With assistance by Mark L Clifford
Before it's here, it's on the Bloomberg Terminal.
LEARN MORE