business
Pawel Piskorski/Poland: The Accidental Politician
Dawn Smith
Pawel Piskorski sounds like many big-city mayors these days. He is given to grand plans for Poland's capital, including a "Contract for Warsaw" to make it a better place to live. But to Piskorski, his mayoral ambitions are still surprising, considering how it all began for the 31-year-old activist a decade ago. "We had no expectation of becoming politicians in the normal democratic sense," he says. "Our aim was to fight against the communist system."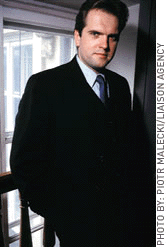 In his own way, Piskorski helped change not only Poland, but the world. A history student at Warsaw University in 1989, Piskorski was also president of the university chapter of the Solidarity trade union's student wing. When Poland's communist government agreed to hold parliamentary elections to decide the country's future in mid-1989, Piskorski worked feverishly on behalf of Solidarity candidates. Their sweeping victory led to Poland's first postcommunist government--two months before the Berlin Wall fell.
Piskorski has been active in politics ever since. Elected to parliament in 1991, he helped found the Freedom Union, which he calls Poland's "most pro-European, pro-market economy party," in 1994. Since becoming mayor last March, he's spent much of his time persuading parliament to fund his $2.5 billion Contract for Warsaw, including a metro system and expressway.
Big plans, big changes. Neither is new for Piskorski--or Poland.