Pawel Gricuk/Poland: A Window On The West
Kerry Capell
When Pawel Gricuk was a student at Lodz University in the mid-1980s, he figured he'd be lucky to get a job in one of Poland's state-owned import-export companies. "Everyone wanted to work at these companies because you could travel and be paid in hard currency," Gricuk recalls. "It was a window to the world." Most of those operations are long closed, and Gricuk has opened wider windows: At 35, he scouts for investments in eastern Europe from the London office of J.P. Morgan & Co.
Change came swiftly for Gricuk, as it has for many Poles. He graduated with an economics degree in 1989, went to Warsaw, and spent the next four years helping Arthur Andersen set up shop. It was tough going. Many Poles were wary of the foreign consultants piling in to advise local companies. "My first challenge was to build trust with my own people," Gricuk says.
In 1993, Gricuk headed for London. He had traveled abroad before--to Beijing as a student, then to New Zealand, where he had set up a sandwich-delivery business in 1988. But his new job was a long way from ham and cheese. In 1994, as an associate with Morgan's mergers and acquisitions team, Gricuk helped take the Czech Republic's SPT Telecom private, one of Central Europe's first big privatizations. Then he joined Morgan's capital-markets group as an associate banker. His team handled Poland's first eurobond, a $250 million issue that followed a debt restructuring.
Today, Gricuk is a vice-president with Morgan's private equity team, concentrating on Poland and Turkey. For Gricuk, who speaks Polish, English, and Russian, venture capitalism is the "closest thing to running a company," which he would like to try someday in Poland.
Was the end of communism the turning point in his life? Yes and no. Post-communist Poland was certainly reenergized with new restaurants and nightclubs opening every week. And his own life has changed in unexpected ways. Not least, Gricuk met his wife, Eileen, during those post-Wall days, and they now have two children.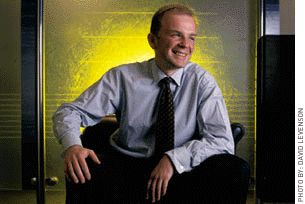 But Gricuk feels no great animosity toward the communist era's final years. He recalls a land of Polski Fiats, not the BMWs and Mercedes-Benzes now common on Warsaw streets. Only the wealthiest Poles vacationed in Yugoslavia; most went to Bulgaria. It was dull, he admits, but not intolerable. The benchmarks by which people measured life were simply different. "Expectations were lower," he says, "because of the lack of opportunities."
Gricuk's generation is markedly more entrepreneurial than his parents'--"more like Westerners--career-focused and ambitious." However, the transition hasn't been fair to everyone. "Those who could adapt did well," Gricuk says. "Those who couldn't were left behind." But with communism a memory, Poland's next generation can only move forward.
Before it's here, it's on the Bloomberg Terminal.
LEARN MORE