Mary Harney/Ireland: High Tech Hibernia
by
Mary Harney, Ireland's 46-year-old vice-premier, remembers her country in the 1980s as an inward-looking place, locked into age-old doctrines and rivalries. The economy was sagging, Ireland's best and brightest were leaving. Harney, who co-founded a free-trade Progressive Democrat party in 1985, found few takers for her tax-cutting, school-building, high-tech pitch.
When the Berlin Wall fell, though, the New World Order made its presence felt even in distant Dublin. Harney found a potent economic argument: All of Europe, east and west, she said, was going to be battling for the same investment capital. Ireland could land loads of this investment and transform its economy--provided it made itself friendly to business.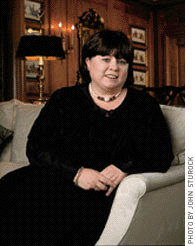 Through the decade that followed, Harney pushed reform. The message soon spread far beyond her Progressive Democrats. The results have turned Ireland into a showcase for Europe. With corporate tax rates a third the size of continental Europe's, Ireland has enticed a bevy of high-tech stars, from Dell to Microsoft. Meanwhile, 500 software and networking companies have sprouted. The fast-growing country now leads Europe in software exports.
Harney, who is also Minister of Trade & Industry, tromps regularly through Silicon Valley, hunting for more brains and investors. "Geography has to be irrelevant," she says. And in a Europe where Ireland now battles Poland and Hungary for investments, it is.
Before it's here, it's on the Bloomberg Terminal.
LEARN MORE