business
Francesco Rutelli/Italy: Clean Hands Take The Helm
Gail Edmondson
Rome Mayor Francesco Rutelli recently welcomed 1,000 new members of the city's police force by proclaiming that none had gotten the job through political connections or nepotism. Rutelli, 45, is one of a group of young Italian mayors pushing for reform of inefficient government institutions traditionally plagued by influence peddling and graft. "We've broken the link between political power and administrative corruption," he insists.
Well, maybe not broken, but partly severed. In Italy, the end of the Cold War unleashed a backlash against a system riddled with corruption. In the early 1990s, crusading Italian magistrates launched the dramatic "Clean Hands" investigation against powerful members of the country's ruling parties. The widespread corruption uncovered by the judges brought down an entire generation of postwar politicians. With the collapse of the Soviet Union, there was no longer a geopolitical argument to tolerate the misbehavior and mismanagement of the ruling parties, which had offered a bulwark against Communism.
The Clean Hands crusade gave young outsiders like Rutelli a chance to work for change. In 1992, Italy passed a law requiring that municipal politicians be elected instead of appointed. Rutelli, who spent 10 years on the fringe of Italian politics, first as a member of a radical party and later as a Green Party Parliament member, was swept into office at age 39 in 1993 with 60% of the vote. "The collapse of communism allowed a generational change," he says.
Rutelli had to start from scratch. Declaring bureaucracy "public enemy No. 1," he has shrunk the ranks of municipal employees by 10% over the past five years. He has fired dozens of administrators and commissioners for misdeeds. Attacking local corruption, he slashed the number of steps needed to get a building permit from 26 to 4.
Romans still gripe about the slow pace of change. "Something of the old system is still alive," Rutelli admits. "But there isn't the same alliance between political power and bribery. It's the exception, not the rule," he says.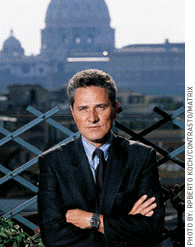 As one of the leaders of the eight-month-old political party called the Democrats, founded by Romano Prodi, Rutelli is expected to seek national office in 2001. He may be tapped sooner as deputy prime minister if the government of Massimo D'Alema is reshuffled or new elections are advanced.
For now, Rutelli is concentrating on finishing what he has begun as mayor. High on his list is galvanizing a new generation to accelerate change. "We have to give a real chance to people in their twenties," he says. If Rutelli succeeds, it will go a long way to speeding the break with the past that he has begun.
Before it's here, it's on the Bloomberg Terminal.
LEARN MORE