Eric Halphen/France: A New Breed Of Watchdog
by
In french political circles, the favorite parlor game these days is betting on when Judge Eric Halphen will let the other shoe drop. In October, an investigation launched by Halphen led to the trial of the wife of Paris Mayor Jean Tiberi for participating in a suspected government payroll scam. Halphen has targeted the mayor separately in an influence-peddling probe. The question now is whether his inquiries will lead to the top of the RPR party, headed by President Jacques Chirac.
Barely a decade ago such investigations would have seemed unthinkable. But just as the fall of the Berlin Wall unleashed economic forces in Europe, so did it embolden reformers across the Continent to uncover the often incestuous relationships between business and politics. In France, a new generation of magistrates like Halphen, 40, is prodding the judiciary to take action.
The Paris mayor is one of several top officials charged with influence-peddling. But Halphen's probe is potentially the most explosive: He is collecting evidence of alleged voter fraud and illegal spending to aid the RPR in Paris during Chirac's tenure as mayor from 1977 to 1995.
Halphen has been on the RPR's trail since 1994, when allegations surfaced that Paris officials were diverting city funds to the party. A major break came in 1996, when a search he ordered at the Tiberis' apartment turned up a report written by Mme. Tiberi about cooperation among French-speaking nations.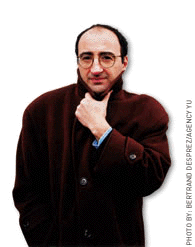 Halphen determined that a prominent RPR senator had paid her $43,000 in government funds for the report. That's slightly less than Halphen earns in a year as a judge. The senator testified at Mme. Tiberi's trial that her husband had requested a no-show job for her--a common arrangement in French politics.
Will France's magistrates succeed in cleaning up the political system? Halphen doesn't think so. "Politicians still need money. They'll just find new ways to hide it," he says. Still, if Halphen has his way, French politicians will be on the edge of their seats for quite some time to come.
Before it's here, it's on the Bloomberg Terminal.
LEARN MORE