business
Central Europe: How Far, How Fast?
Is Central Europe ready to join the EU?
David Fairlamb
For the well-heeled business folk and bankers who crowd the Bristol Hotel's opulent bar in downtown Warsaw, it's as if communism never existed. No one ever talks about martial law anymore. The Berlin Wall is all but forgotten. These days, the hottest topics are the latest Mercedes S Class or fashionable vacation spots in the Seychelles. And when it comes to business, it's all about the European Union and the future, never Russia and the past. "Socialism is history," says Zofia Gaber, president of Agros Holding, a now privately run food processing conglomerate that makes and distributes vodka. "What concerns us now is when Poland will be accepted into the EU," she adds.
The same message echoes across Central Europe's other strong economies. Not only Poland but also Hungary, the Czech Republic, Slovenia, and even tiny Estonia--once a reluctant republic of the Soviet Union--expect to join the EU as early as 2003. They have already been preparing: The lion's share of their exports now goes to Western Europe. The rules and regulations governing their economic life increasingly come from Brussels. Their economies are rapidly being integrated into the vast and prosperous EU market. "That's only natural," says Hanna Gronkiewicz-Waltz, president of Nardowy Bank Polski, the Polish central bank. "When communism collapsed, it was obvious we would want to join the EU to guarantee our freedom and ensure our prosperity."
LOOMING BOOM? As that moment nears, some analysts believe the region's leading economies could be poised for a prolonged boom. Annual economic growth could reach 7% to 8% over the next decade, predicts Charles Robertson, an economist at ING Barings in London. "A convergence of factors would send growth through the roof," he says. Not least of these could be higher growth in the euro zone itself, as countries return to relatively expansionary policies now that the single currency has been introduced. That could provide a powerful locomotive effect for Eastern neighbors.
Yet even if this bright scenario plays out, the EU will be welcoming into its fold five countries that still lag desperately behind their Western European neighbors. It's the paradox of Central Europe: The region's best-governed countries have tackled the task of creating free markets with surprising vigor. But even after a decade of growth, the dead hand of communist-era economics weighs heavily on these lands.
Poland, Hungary, the Czech Republic, Slovenia, and Estonia have privatized large swaths of their economies, knocked state finances into shape, freed prices, deregulated markets, and curbed inflation. The living standards of their populations far exceed those of their counterparts in Romania and Bulgaria--not to mention Bosnia or Kosovo or corrupt Ukraine and Russia.
Even so, analysts predict that it could take 25 to 30 years before the gross domestic product of a Poland or a Hungary approaches the EU average. "A decade ago many Central Europeans thought they would catch up with the EU by the end of the century," says Jan Svejnar, the Prague-born executive director of the William Davidson Institute, an affiliate of University of Michigan Business School specializing in transitional economies. "But they underestimated the difficulty of changing from one system to another."
This shortfall between promise and reality could create serious problems for the New Europe as the EU embraces even its strongest neighbors to the East. The EU accession talks set to begin next year could become bogged down on major issues such as agricultural subsidies or the extent to which citizens of other former East Bloc countries should be able to visit or work in the EU. Even if there's political will to resolve such difficulties, the economic gap between eastern and western countries could pose longer-term problems for an expanded EU.
Indeed, if the Central European countries are admitted, the EU will have to live with a large group of low-income countries on its eastern flank for a generation to come. Integrating Portugal, Spain, and Greece into the EU in the 1980s was hard enough. But bringing in five backward Central European countries could prove overwhelming. Most worrying, it could strain the $100 billion annual EU budget almost to the breaking point and paralyze decision-making, especially if individual member states retain the right to veto decisions that affect their national interest.
Two of the most pressing problems are likely to be Central Europe's low wage levels and joblessness. Technically unknown in the communist era, joblessness is at or near double digits in the five leading economies. That is only the official statistic. A layer of hidden unemployment, the legacy of overstaffing in industry and state bureaucracies, tops it off. It's also the result of government efforts to lure people out of the workforce through early retirement to keep unemployment figures down. Workers who leave their jobs receive up to 80% of their pay. But even full-time salaries are miserly compared with Western levels. The average Hungarian takes in about $10,000 before taxes, far below the the average $27,000 income just across the border in Austria.
No wonder some EU politicians and trade unionists fear an onslaught of cheap Central European labor once the Poles, Czechs, and Hungarians are free to live and work in any EU state. The result could be lower wages and higher unemployment among the locals. Already, many of the workers on German construction sites come from Central Europe. "A lot of them are paid below the official rate," complains Antonio Pitolo, a 45-year-old Italian who works on a building site in Frankfurt.
Even more Western European jobs will be lost if companies from the EU keep investing in lower-cost Central Europe. This year, a total of $11 billion will be invested in Poland, Hungary, the Czech Republic, Estonia, and Slovenia (chart). That's four times as much as in 1991. The amount could rise by 20% next year.
Jobs are not the only issue. Integrating the Central Europeans in the EU will be particularly difficult if new members adopt the euro quickly. Poland's Gronkiewicz-Waltz talks about introducing the euro two years after accession. Gyorgy Suranyi, head of the National Bank of Hungary, plans to link Hungary's forint to the euro from Jan. 1, 2000.
MOMENTUM. But to qualify for the euro, Poland, Hungary, and other nearby states will need even more austerity to bring their budgets under control. Worse, these weak economies may suffer under a fairly strong currency like the euro, which could make exports far less competitive. Introducing the euro to Central Europe would also complicate policy-making at the European Central Bank. "It is difficult enough for the EU to manage a single monetary policy for the euro zone now," says Wolfgang Matis, managing director of European fixed income at Deutsche Bank in Frankfurt. "Imagine what it will be like with five more countries with far less advanced economies."
Despite the hazards, the momentum seems strongly in favor of expanding the EU to the east. A recent EU report warmly supported expansion. And most Central European politicians want to anchor their countries firmly to the free world. The enthusiasm, however, is not shared by all Central Europeans. Many workers, for example, worry that Western investors will buy their companies and restructure them out of their jobs. Employees at Ursus, the giant tractor factory on the outskirts of Warsaw, recently burned EU flags and protested violently against government plans to privatize the company, a move the factory hands fear will result in layoffs.
In Poland, farmers fear that their livelihood will be destroyed by EU membership. EU officials say it is likely that only large Polish farms will be entitled to subsidies under the EU's $45 billion-a-year Common Agricultural Policy. Small-scale farmers probably won't qualify. That's a serious issue in Poland because 27% of the population make their living from small farms. Farmers have taken to the streets against heavily subsidized food imports from the EU, which they say are undercutting them. "We will never agree for Poland to be a dumping ground for the EU's farm surpluses." says Andrzej Lepper, head of the radical Samoobrona peasants' union. He has called for an all-out strike from mid-November, which he hopes will paralyze the country. "If I were a Polish farmer or miner, I would have mixed feelings," acknowledges Horst Kuhler, president of the European Bank for Reconstruction & Development (EBRD). "It's understandable they should want to fight to protect their living standards."
Even some entrepreneurs are nervous about the greater competition that will come with EU membership. Ryszard Posyniak, president of the small, Warsaw-based PC Express travel agency, has done well selling to Polish executives eager for corporate travel. "But now the global corporations are coming," he says. "We are very much afraid of this."
The prospect is not all gloomy. Other private companies stand a real chance of surviving--or benefiting--if their countries join the EU. More than a quarter of privatized Hungarian enterprises now number strategic Western investors among their shareholders. The same companies generate 75% of the country's annual $23 billion in exports, with many of these sales going to parent companies in the EU.
Some are becoming real players on the European stage. Hungarian pharmaceutical company Egis, for example, is producing a range of new anti-hypertension drugs for sale primarily in the EU and the U.S. In the Czech Republic, Volkswagen says that its Skoda Automobilova is thriving. German capital and expertise coupled with relatively cheap Czech labor have revitalized the once sluggish auto maker. Sales are predicted to grow 8% this year, to $2.6 billion. Meanwhile, in Poland, 22 companies have launched initial public offerings this year on the Warsaw Stock Exchange. Among them is ComArch, a six-year-old Krakow-based company that produces software for financial and telecom firms. After going public earlier this year, ComArch now boasts a market cap of some $80 million.
NEW BLOOD. But there's no doubt the next few years will pose major challenges for Central Europe's strongest economies. As governments struggle to bring their legal and economic frameworks closer to Western European levels, businesses will be scrambling to profit from new opportunities--or simply trying to cope. The good news is that members of the market-oriented generation of young people who have entered the job market since 1989 are now making it into managerial positions. That should lead to a massive injection of entrepreneurship into the economy, and perhaps even into political leadership.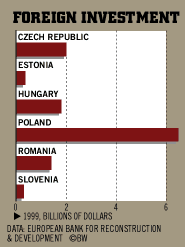 In recent weeks, European Commission President Romano Prodi has made it clear that expanding the European Union to the east is a top priority. Few observers doubt that the front-runners will be admitted by the middle of the next decade. For countries shackled by communism just a decade ago, that is a tremendous achievement. "Stand back from the day-to-day frustrations, and you realize just how much has been done by these countries," says the EBRD's Kuhler. But it will still take plenty of political will, sacrifice, and time for them to live up to the expectations unleashed by communism's collapse.
Before it's here, it's on the Bloomberg Terminal.
LEARN MORE