"Aaargh! Consider Me Ill"
It's not the flu. Or even kids' chicken pox. It's work itself that's behind the bulk of employee sick days. So reports CCH International's 1999 annual survey of unscheduled employee absences, which canvased 305 employers of all sizes.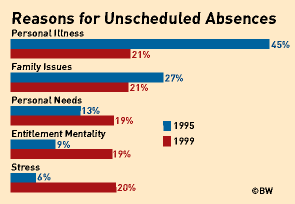 The study reveals a disturbing underside to an economy running at peak capacity: Employees are simply buckling under bigger workloads and round-the-clock schedules. In 1995, for instance, just 6% of absences were attributed to stress, a number that soared to 19% this year. "There's a squeeze going on," says Nancy Kaylor, a human resources analyst at CCH. "Every year, there's a little more piling on. And something has to give." One way to keep unscheduled absences down: openly support "mental health days," but make sure they're planned in advance.
For the full stories, click Online Extras at frontier.businessweek.com
Before it's here, it's on the Bloomberg Terminal.
LEARN MORE