A Big Dust Up Over Trash
Joan Oleck
On the first night of autumn, a majestic sunset burnishes the Statue of Liberty in pinks and golds, while lights flicker on across upper New York Harbor like tiny diamonds. From Red Hook, a pointy-headed, square-mile peninsula in south Brooklyn, the view is so stunning it stops you in your tracks.
But tonight there's a catch: The wind is up, and the harbor waves are rough. And they're rocking the boat, both literally and figuratively.
The boat in this case is Lehigh Valley Railroad Barge No. 79, a vintage wood vessel moored off cobblestoned Conover Street in the heart of this once flourishing maritime village. Today's Red Hook is blighted, with ghostly piers, boarded-up buildings, and a population largely on the edge. But that doesn't deter a visit this autumn evening from the Citywide Recycling Advisory Board. The board is holding its monthly meeting on the barge at the behest of Red Hook activists. Their mission is to show off their surroundings--and persuade the panel not to recommend the waterfront for a proposed 8,000-to-12,000-ton-a-day garbage-transfer station.
"A MOCKERY." Those drop-dead gorgeous sunset views are central to the group's plea; this is no ordinary not-in-my-backyard fight, locals contend. Just 800 feet away across Buttermilk Channel sits Governors Island, a shuttered Coast Guard station boasting the same scenery and proximity to Manhattan as Red Hook. The city administration is promoting development there at the same time it is foisting onto Red Hook an "enclosed barge-unloading facility," or EBUF. Local translation: garbage dump. "The EBUF proposal would place this site in direct view of the Statue of Liberty," resident Carol Kruger tells the recycling board aboard the swaying barge. "What a mockery to what `she' represents."
What a mockery, too, activists say, of their struggle to bring their community back from its long decay and from a drug culture that culminated in the 1992 shooting of a beloved principal.
Red Hook has taken other hits over the years, mostly from the City of New York. In the 1940s and '50s, the community was isolated from the rest of Brooklyn by construction of the Brooklyn Battery Tunnel and the Gowanus Expressway. In the 1960s, the introduction of containerized shipping threw its longshoremen out of work and extinguished their thriving world of Italian and Irish bars, bakeries, and pool halls. A failed urban-renewal plan for a containerized seaport emptied buildings and cut Red Hook's population of 22,000 in half. Poverty and drug dens moved in. Another hit came when the area was rezoned by the city for heavy industry in the 1960s. A cement plant sprung up; two sludge-treatment plants opened. The community fought back, getting all three shut down. Then came the garbage: a 1980s explosion of 17 privately owned transfer stations, for the temporary storage of trash. Those facilities were run out, too. All that remained was a city-operated, barge-based "marine transfer station"--at a comfortable distance.
In sharp contrast is the EBUF, proposed for a 28-acre site adjacent to playing fields and waterfront businesses. When Red Hook created its own 1996 plan to clean up this area, locals say, the city scoffed--and reserved its right to put a garbage facility there anyway. That same year, Mayor Rudolph Giuliani kept a promise to political ally and Staten Island Borough President Guy Molinari to close Fresh Kills, Staten Island's environmentally disastrous dump. A date was set--Dec. 31, 2001--and private-sector solutions solicited. The preferred plan was to invite Waste Management Inc. to construct a massive transfer station in Red Hook. Says John McGettrick, civic association co-chair: "We're always fighting rear-guard actions rather than moving forward, planning good stuff."
OFF THE HOOK. Despite the punches, activists cite Red Hook's revival--its yearly art fair, its public promenade, and concerts at a restored, turn-of-the-century barge. The views and tax advantages of an economic development zone have also lifted the business profile. Over 10 years, the number of companies--from glassblowers to caterers--has grown 60%. And urban pioneers have arrived. Realtor Frank Manzione says he is inundated with calls. He notes that two-family homes that sold for $100,000 five years ago command double that sum now. No surprise there. Says artist Florence Neal: "There's something amazing about walking out on your street and seeing ships go by."
Indeed, a land rush is on for the 150-year-old homes along Coffey and Dikeman Streets and for commercial lofts within the Civil War-era warehouses that ex-cop-turned-developer Gregory McConnell has renovated on two piers. There's even a possible anchor tenant--Valencia Entertainment International of Valencia, Calif.--that plans a 200-job movie studio along the piers. But the EBUF portends troubled waters. Valencia Director John Portman says the studio is on hold, pending a decision on whether garbage barges will ply nearby, narrow Erie Basin. "Will we be there?" Portman asks, then answers: "No."
He's not alone. "Like putting garbage in the Grand Canyon," mutters Domenick Marino, who relocated his ad agency to the Beard Street Pier, where he once courted his wife. The couple tout their Statue of Liberty vista. But, come the garbage, "I'm moving out," Marino says. Similarly, Rhett Butler, CEO of E.R. Butler & Co., says he'll halt plans to manufacture doorknobs and other architectural hardware in a restored 80,000-square-foot space on Ferris Street. "If they have 1,500 trucks rolling through there every week, absolutely, I'll move."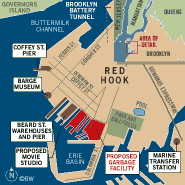 Anger and action, of course, are different animals. Yet Red Hook has a plan: expand its existing, and distant, marine transfer station into an EBUF. But the city says no. "This postage stamp of a facility...is not a site that can be expanded," argues Deputy Solid Waste Commissioner Martha Hirst. She cites studies that show efficiency would drop. And, she says: "Nothing about this [EBUF plan] would inhibit that community from thriving." Brooklyn, however, doubts the city's contention that the EBUF would operate by barge only, so it's trying to rezone Red Hook's waterfront to prohibit truck traffic.
Construction on the EBUF probably wouldn't begin before 2004. Meanwhile, as the politicians duke it out, the village waits in peace. O'Connell, the pier developer, continues to woo small businesses and to work on housing he'll reserve for the poorest residents of Red Hook. His goal is to bring jobs, historic preservation, and the arts to a neighborhood small enough to reflect his labors. He says he's found all this in Red Hook. And if the garbage barges come? Answers O'Connell flatly: "It takes away the dream that I have."