Japan's Asian Comeback
Asian consumers are keeping Japan's foreign plants hopping
By
When the Asian crisis rolled over Thailand, frightened Thais simply stopped buying cars. That was disastrous for Japanese companies like Toyota Motor Thailand Co., which had to shutter assembly lines and offer early-retirement packages just to cope.
But now Asia is recovering, and so are its shell-shocked consumers. Compared with a year ago, Toyota's Thailand sales are up 40% through August, and 29% in the rest of Southeast Asia. Its new $30,600 Camry is such a hit with Thais that the company can't keep up with orders. By next year, says Yoshiaki Muramatsu, president of Toyota in Thailand, the pickup in sales and further cost-cutting will put the subsidiary firmly back in the black.
GLOBAL VISION. It's the same story at Japanese companies from Bangkok to Beijing. As exports pick up and shoppers regain their nerve, Japanese manufacturers with plants across the region are reaping the benefits. And Japanese operations in Asia are emerging stronger and more efficient than before the crisis thanks to tough cost-cutting and a renewed stress on selling to the world at large.
Lured by the region's low-cost labor in the late '80s, Japanese makers of everything from cars to electronics saw Asia as a cheap export base, as well as home turf to a burgeoning consumer class they hoped to hook on Japanese products. But the crisis wiped out local consumption, forcing many Japanese to run their plants at a fraction of capacity.
Now, Japan's Asian factories are starting to hum again. A major sign of the resurgence: an 11% jump in exports from Japan, much of it key materials and components for Japanese-owned plants, to Southeast Asia. These plants then turn these materials into finished products for sale worldwide. Thus almost 75% of Japanese companies in Southeast Asia expect to show a profit, or at least break even, this year, according to the Japan External Trade Organization.
Helped by rising stock markets, tax cuts, and high interest rates earlier this year, many Asians now have more cash. And shaky local banks across the region are encouraging many people to spend that money rather than save it. Fewer layoffs have made many consumers feel secure enough to buy big-ticket items. Pramualirat Boonnau, a 33-year-old nurse, saved her money for two years, then went shopping recently in Bangkok for a $322 Pioneer Corp. stereo. "I have a lot of money. This is just a little bit of my salary," she says.
Even continued instability is helping boost local demand. In Indonesia, analysts attribute an auto-sales spike of 12% this year more to a lack of faith in the government and the local banking system than to rising consumer confidence. "Customers realize that no matter what the government does, the value of the car will not decrease," says Herman Z. Latif, chairman of Krama Yudha Tiga Berlian Motors, which assembles vehicles in Indonesia in a joint-venture with Mitsubishi Motors Corp.
Demand for Japanese products is also rising in largely untapped markets such as South Korea and China. Subsidies from Beijing are helping state-owned companies import Japanese machinery and electronics parts to upgrade factories. And in South Korea, the government has abolished a longstanding ban on Japanese imports, to the delight of consumers. Since January, for example, Sony International Korea Corp. has seen sales of electronic products jump 80%. "All Koreans know Japanese products are better than Korean ones," says Park Hyun-Ju, a Seoul office worker who was recently looking at buying a JVC stereo in Lotte Department Store.
Weaker currencies in Asian countries--coupled by the newly stronger yen--are also propelling Japanese companies to incorporate Southeast Asian-made goods into world production plans as never before. More than one-third of all Japanese companies have increased their exports from plants in Southeast Asia in the past two years. Auto makers in Thailand, 90% of them Japanese, will probably export more than 150,000 vehicles to more than 100 countries this year, up from almost nothing two years ago.
It's not just Thailand. Even in strife-torn Indonesia, local car-parts maker Astra International is finding new life as an exporter. Astra's local joint-ventures with Toyota, G.S. Batteries, and Denso have dramatically boosted exports of car engines and other components to Japan. In Malaysia, audio maker Aiwa Co. is recruiting 500 more workers for its assembly lines. "Export-oriented companies are running at full capacity," says Satoru Kumagai, a Malaysia specialist at the Institute of Developing Economies in Tokyo.
The revival of Japanese manufacturing in the region is also leading to more investment, though it's nothing like the wave of Japanese capital that hit the region ten years ago. Canon Inc., for example, plans to invest $143 million in Thailand through 2003, after boosting its production of ink-jet printers by 30% and facsimile machines by 65%, mostly for export, this year. But it will beef up existing production lines instead of building new factories. "Our production will increase since we can make anything at 70% of the cost in Japan," says Yoshikatsu Tanikawa, president of Canon Hi-Tech (Thailand).
"LESS COMPETITION." Japanese companies are even gaining an advantage over competitors knocked to their knees by the Asia crisis. Since Korean companies stopped producing picture tubes for color TVs in Indonesia, Toshiba has been ramping up tube production at its Indonesian facilities. "In some areas, we are facing less competition," says Yutaka Tsubota, Asia manager at Toshiba Corp. "We are already as profitable [in Southeast Asia] as we were before the crisis."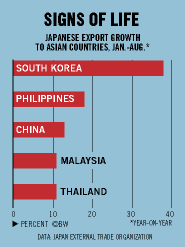 The picture is not all rosy. Despite recent gains, sales of electronics and autos in Southeast Asia remain less than half pre-1997 levels. The recovery remains perilously dependent on U.S. consumption. Countries such as Indonesia still face instability that undermines business confidence. Krama Yudha Motors, for example, has been able to double prices--but imported components cost five times more than they did two years ago. "We are still in deep trouble," says Latif.
But at least for the moment, Asian consumers are showing that they still know how to spend. When Pradermisak Chaipet, 30, recently got a promotion at the bank where he works, he went out and bought a $24,550 Toyota Hilux pickup truck. "My salary has stabilized," he says. "One car is not enough." That's just what Japan's manufacturers want to hear.