It May Be Miller Time For Sam Adams
By
Brewers, particularly those that produce "craft-brewed," or specialty beers, have been in the dumps for more than a year. Part of the reason is the stock market's long intolerance for small-cap stocks. One of them, Boston Beer (SAM), whose brands include Samuel Adams, has traded between 7 and 11 for more than 12 months, causing dismay both to its shareholders and to the analysts who track the stock. But relief may be around the corner: Some big investors think that No. 2 brewer Miller Brewing, owned by tobacco king Philip Morris, has approached Boston Beer with an informal buyout bid.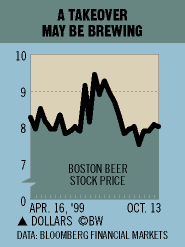 "The top people at Boston Beer didn't exactly encourage an offer," says one California investment manager who owns shares in Boston Beer. He thinks that Boston Beer's management is still studying its options to come up with a realistic value for the company. In the meantime, he says that investment bank Lehman Brothers has been buying shares recently on behalf of Miller Brewing. Lehman Brothers didn't return a call.
Analyst Timothy Swanson of A.G. Edwards, who rates Boston Beer an "aggressive buy," has a target price of 13 for the stock purely on fundamentals. "The company has been increasing earnings consistently and has a clean balance sheet," says Swanson, who figures Boston Beer stock stands to earn 54 cents a share this year and 64 cents in 2000.
Says the California shareholder: "If Boston Beer thwarts Miller's advances, Miller is apt to come back with a hostile bid." He suspects that Miller offered $14 a share. Boston Beer declined to comment.