United Asset Management: Not Exactly A Comeback Kid
Shares of money manager UAM struggle to catch the market
Jeffrey M. Laderman
When the stock market sneezes, the stocks of money managers catch cold. So it's no surprise that shares of United Asset Management, the Boston-based holding company whose 45 affiliates manage $200 billion in assets, have been getting whacked. During the third quarter, as the Standard & Poor's 500-stock index sank 6.6%, UAM plunged 16.4%. But that's the least of it. The stock, at 19 7/16, is no higher than it was four years ago, and it has underperformed other publicly owned money managers (chart) and the stock market during one of the best decades ever for equity investing.
UAM's troubles stem, in good part, from the way Norton H. Reamer, founder, chairman, and CEO, structured the company as a loose federation of affiliates with little incentive to continue to build their individual firms. Reamer also largely bought firms that serviced slow-growing defined-benefit pension plans, rather than the faster-growing defined-contribution and mutual-fund businesses.
"PROVE IT." Adding to the downward pressure on the stock were the recent woes of Julian Robertson's Tiger Management LLC, which was a 15.8% shareholder in the company as of June 30. With its hedge funds down 23% this year, Tiger has been hit with redemptions--about $1.5 billion in the last quarter alone--and that has likely led to sales of its holdings in UAM.
Reamer launched an initiative last year to improve the company's performance and says he sees progress. The stock, however, has continued to sink. "You can't blame shareholders for having a `prove it' attitude," says Reamer, who owns about 3.7% of the shares himself.
Reamer shifted UAM's emphasis from growth by acquisition to internal growth. To make that happen, UAM, once a hands-off owner, is getting actively involved with its affiliates. The parent company now has a cadre of executives that, says Reamer, "get cozy" with the affiliates, suggesting ways to address problems. UAM now also makes investments alongside the affiliates to improve marketing, client service, and technology. In the past, affiliates often skimped on reinvesting in their businesses because they bore all the cost.
UAM owns 100% of the equity in its affiliates and earns its money through a revenue split. And that, say some, is a source of the company's troubles. "UAM needs a better way to align the interest of the affiliates and the parent," says analyst Larry Sondike of Franklin Mutual Advisers, which, with 16.3% of the stock, is the largest shareholder.
SLIMMING DOWN? Reamer's comeback plan also makes use of corporate cash flow--about $190 million after interest and taxes--to buy back stock. In 1998 and the first half of 1997, shares outstanding had fallen by 15%, to 59 million. Still, the stock trades at a price-earnings ratio that's one-third below the S&P 500, and its price is so low that its 80 cents annual dividend works out to a 4.1% yield, which values the shares like a utility. The stock has been so cheap that it attracted some well-known bargain hunters like Franklin and Robertson.
Investors may get a sense whether Reamer's plan is working when earnings are reported on Oct. 21. Analysts are forecasting a profit of 25 cents a share, 2 cents below last year. But what really counts is client cash flow. That figure has been negative in 21 of the last 22 quarters as clients pulled $63.4 billion more out of UAM units than they put in. Still, assets under management have more than doubled, to $200
billion, during that period through acquisitions and market appreciation.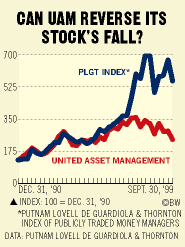 The second quarter's outflow was $2.7 billion, a big improvement over the $6.5 billion in the first quarter. "The third-quarter flows won't be positive, but they should be better than the second," says Alexander Paris Jr. of Barrington Research Associates, a Chicago institutional research firm. UAM officials declined to comment on estimates of client cash flow.
Outsiders say UAM needs to slim down by selling some affiliates. UAM nearly sold its Pilgrim, Baxter & Associates unit for a reported $500 million to $600 million last year, but the deal fell through, and insiders say it's not on the block. Still, the market now values UAM equity and debt at just $2 billion. There's no question the sum of the parts is worth a lot more than the whole. Reamer's challenge is to change that math.