U.S.: No Wonder The Fed Has A Foot On The Brake
Global recovery is nudging demand up, tilting policy toward another hike
By
Give the Federal Reserve credit: It has found a way to put some excitement into keeping interest rates unchanged. As widely expected by everyone from traders on Wall Street to your next-door neighbor, the Fed held rates steady on Oct. 5, after quarter-point hikes in both June and August. But that still didn't cut the markets any slack. The Fed announced a shift in the direction that policy is leaning. Instead of having no predilection for its next move, the Fed said that policy is now biased toward higher rates. Although the Fed's statement strongly suggested that it would not make a move before its next meeting on Nov. 16, Wall Street must remain nervous about another hike.
That policy shift, combined with recent robust economic data, strongly argues that this current round of Fed tightening still has a ways to go--perhaps even further than the markets now expect. That's because for the first time in nearly two years, U.S. and global economic forces are aligned in a way that will seriously test the belief among many Fed policymakers that the U.S. economy can continue to grow as strongly as it has without generating inflation.
To be sure, there were plenty of reasons not to hike on Oct. 5. Pricing pressures further back in the production process, reported most recently by the nation's purchasing managers (chart), have not traveled to finished goods. Also, credit quality spreads have widened in recent weeks and stock prices have sagged, both suggesting tighter financial conditions. Moreover, the prevailing philosophy at the Fed, which was clear from its Oct. 5 statement, is that faster productivity growth is helping to absorb cost pressures. Clearly, the inflationary potential of the U.S. has been sharply reduced--not only by technology-driven productivity gains but also by past deregulation and sound anti-inflation policies.
BUT A GLOBAL RECOVERY outside the U.S. changes everything, especially since spending within the U.S. is not cooling off as policymakers had wanted. The resulting strains on the labor markets were the deciding factor in the Fed's policy shift. Now those strains will only intensify, particularly since the global upturn is looking stronger than expected. For example, Japan's closely watched Tankan survey of business activity showed the largest quarterly rise in business sentiment in 12 years, and third-quarter economic growth is looking better than expected. In Germany, factory orders in August jumped by a surprisingly large 5.1%.
Why is all this bad for the inflation outlook? First of all, stronger world demand is absorbing excess global capacity, reversing last year's weakness in commodity prices. Second, healthier foreign economies are sure to attract more capital at the expense of the dollar and U.S. assets, which were buoyed last year as investors sought the relative safety of U.S. financial markets. The greenback, already down against the yen, is now losing ground to the euro. The strong dollar has been a key inflation deterrent.
Most important, the global revival is boosting U.S. exports, which are reigniting U.S. manufacturing activity. Last year's factory slowdown resulted in falling capacity utilization and reduced pressure on prices of U.S.-made goods. The surprisingly strong September report from the purchasing managers suggests that the factory recovery will be faster than anticipated, especially since manufacturers are not carrying nearly enough inventories to meet demand (chart).
THE MANUFACTURING REBOUND makes a strong case that economic growth will not ease back from its recent 4% trend anytime soon. Manufacturing is a key 20% of U.S. output, and the economy has never slowed when factory production is accelerating, as it is now. The latest evidence: The National Association of Purchasing Management's index of industrial activity jumped sharply in September, to 57.8% from 54.2% in August. The index, a composite of several measures, is at its highest level in nearly five years.
The NAPM reported exceptionally strong order activity last month, and more companies reported rising export orders than at any time since March, 1997, before the Asian crisis. But what undoubtedly caught the Fed's attention was the NAPM statement that "We see continued strengthening in prices with pricing power apparent in a broad base of commodities." The most companies in 4 1/2 years report paying higher prices. The NAPM's September survey of nonmanufacturing industries showed a similar uptrend in pricing.
The problem is, with manufacturing now accelerating amid relentlessly strong demand, these costs will only continue to grow. That's especially likely since factory output will have to respond to a growing need for businesses to build up their inventories--and not for reasons related to Y2K. In a special survey, the NAPM says only 38% of responding companies plan to build Y2K-related inventories. And of those companies planning such additions, Y2K inventories would be only 23% of their total stock levels.
Instead of Y2K precautions, the biggest influence on inventories will be that stock-building by businesses during the past year has slowed to a pace that is insufficient to match demand. Rebuilding those stock levels will keep factories increasingly busy in coming months, adding substantially to economic growth.
IN THE MEANTIME, consumers are already adding substantially to economic growth. In August, consumer spending rose a large 0.6%, even after the figures were adjusted for inflation. And households continue to spend far in excess of their income gains, with real aftertax earnings up 0.5% in August. In the past 12 months, incomes rose 3.7%, while spending soared 5.5%.
The gap between spending and incomes is still being financed by installment credit and gains from the stock market and home equity. The windfall nature of wealth gains suggests why the spending spree has been concentrated in goods (chart), especially big-ticket items such as autos and furniture. Third-quarter sales of cars and light trucks were the highest in 13 years.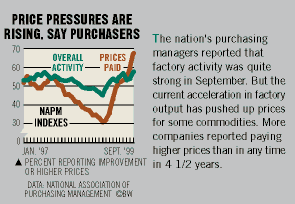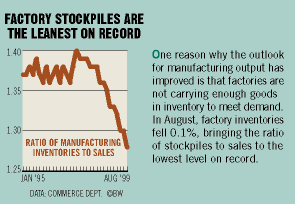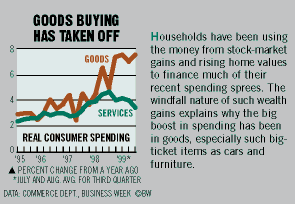 The big question for the Fed is whether its past actions will have any effect on consumers. But even housing--one of the first areas affected by rising interest rates--remains quite strong. In August, new single-family homes sold at an annual rate of 983,000, up 2.9% from July's pace. The third quarter is on track to post the best quarterly sales pace for new-home sales on record, even though mortgage rates over the summer were a percentage point higher than they were at the start of the year.
The enduring strength of the consumer sector--with its attendant demands on labor markets and production capacity--has to be a concern for policymakers worried about price pressures. Add to that the inflationary implications of the global recovery, and it's easy to see why the Fed's job may not be done.