Olivetti: Back To The Bad Old Ways?
Its move to split Telecom Italia has got investors in a rage
Gail Edmondson
In June, Olivetti Chief Executive Roberto Colaninno outmaneuvered goliath Deutsche Telekom in a bruising $33.3 billion hostile takeover battle for Telecom Italia. He wielded shareholders' support to break a merger between two former monopolies and walked away with a company five times the size of Olivetti, making him a standard-bearer of global capitalism.
But his glory has been short-lived. Since Sept. 24, when news leaked of Colaninno's restructuring plan for Telecom Italia, its stock price has slid over 6% as fund managers and market analysts savaged his strategy. Hundreds of irate minority shareholders have joined the attack, pelting Colaninno with angry letters and e-mails copied to the Italian daily La Repubblica. "The so-called new capitalism," fumed one investor, "must have been learned in Moscow."
Those words sting. Until recently, Italian financial markets seemed to be moving away from the self-serving manipulations of a political-industrial elite. Now, fund managers say, if Colaninno prevails at the expense of minority shareholders' interests, the Italian markets will suffer a major setback, both moral and economic. "The deal is not fair. It creates a bad image for the Italian markets," says Massimo Fortuzzi, chief investment officer of Finanza e Futuro, a Milan-based investment fund. Upcoming privatizations, such as the $8 billion public offering of energy giant Enel, could founder. "They need to get a grip before the next round of privatizations, or we'll all be a lot less inclined to buy shares," says a fund manager at one of Europe's biggest institutions.
Colaninno's plan outraged Telecom Italia investors because it would strip the company of its most valuable asset, Telecom Italia Mobile, and transfer it to Tecnost, the debt-laden shell company Olivetti used to finance its takeover of Telecom Italia. At the time of the takeover, Colaninno had led Telecom Italia shareholders to believe that Tecnost and Telecom Italia would merge.
Instead, Colaninno reversed course. Infuriated Telecom Italia shareholders insist they are getting a raw deal in the share swap proposed by Colaninno. They say that at the very least, they deserve more Tecnost shares in exchange for giving up the cell-phone unit. Besides, Tecnost is already saddled with $16 billion of debt related to Telecom Italia's takeover. "If Colaninno wants to go forward, we expect a significantly better exchange ratio, not just a marginal improvement," says Giovanni Grimaldi, director of investments at Prime Gest, a Milan-based asset-management company.
Colaninno denies any nefarious intentions. At an Oct. 6 meeting with investors in Milan, he promised to appoint an independent advisory committee to protect the interests of minority shareholders. The swap ratio will be vetted by an independent expert of the Turin court. "We cannot interfere with the fair valuation as decided by the court," says Colaninno. But many investors think Colaninno tried to get away with a deal that fleeces minority shareholders. "He misjudged the mood," says a London analyst.
The controversial maneuver to spin off TIM is attractive to Colaninno because it allows Olivetti to finance a mountain of debt while maintaining maximum control over Telecom Italia against other potential raiders. A merger between Tecnost and Telecom Italia would have diluted Olivetti's stake in Telecom Italia to below 30%. With this deal, Olivetti's 51.9% stake in Telecom Italia remains intact.
Colaninno insists that it makes strategic sense to split the old, fixed-line operations of Telecom Italia from the high-growth mobile operations. Cut off from the cash flow and profits of TIM, Telecom Italia will be forced to restructure, says one insider. Colaninno also argues that Telecom Italia and TIM can continue to collaborate. "Telecom Italia doesn't need [to own TIM] to increase its value," he says. But analysts worry that Colaninno may be sacrificing long-term gain for short-term cash. Unless they own thriving cell phone and mobile Internet businesses, fixed-line telecom companies such as Telecom Italia will struggle to shore up market share and profits.
Italian fund managers also warn that a classic Italian power struggle may lurk behind Colaninno's sudden change of plans. The powerful investment bank Mediobanca, which is advising Olivetti, may be seeking to increase its influence over Telecom Italia. It's no secret in Milan that Mediobanca, which has a 2% stake in Olivetti, has long sought to bring Telecom Italia into its orbit.
ROMAN INTRIGUE. And the backroom dealing doesn't stop there. Telecom Italia's board was due to meet on Oct. 8 to consider Colaninno's plan. A week earlier, Colaninno went to a confidential meeting at Prime Minister Massimo D'Alema's office to explain the deal, since the government owns a 3.5% golden share in Telecom Italia. Treasury Minister Giuliano Amato and Olivetti advisers also attended. The meeting was immediately leaked to the press.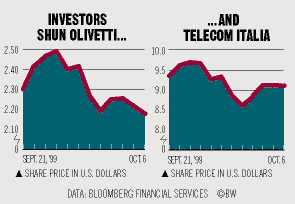 Sources close to Colaninno suspect the leak came from the staff of Amato, who is a political rival of D'Alema. The Prime Minister had backed Colaninno during the takeover. By embarrassing Colaninno, Amato's people sought to strike a blow at D'Alema. "We were caught totally unprepared. So we had to rush and bring forward the board meeting to the next day. Nobody was prepared, and we've seen the results," says an insider close to Colaninno.
Amato has threatened to use the government's shares in Telecom Italia to block the TIM transfer to Tecnost. D'Alema is insisting that Rome will let the market decide. If Colaninno sweetens his offer, the backlash could subside. But Olivetti's stumble and Rome's clumsy meddling are sure to keep investors wringing their hands about Italian markets for months to come.