Is Kulicke A "Sleeper"?
By
Semiconductor stocks are staging an impressive rally, but some of them are still out of sync. One stock that continues to trail the group is Kulicke & Soffa Industries (KLIC), the world's largest maker of semiconductor assembly equipment. The shares have been acting like a yo-yo: They fell from 25 in April to 19 in May, rebounded to 28 1/2 in July, then tumbled to 19 in August, closing at 26 on Oct. 6. But that doesn't bother investment manager Scott Black, a rabid value player who scouts for companies that are doing poorly but whose businesses are on the verge of a turnaround. He thinks Kulicke & Soffa is one such sleeper.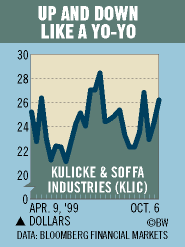 "It is in an industry that's moving fast, and with Kulicke's leading-edge technology, the company will at least catch up with its peers," says Black, president of Delphi Management in Boston. "The stock should double from here in 12 months, based on the earnings recovery we are projecting." The recovery is due, in part, to the bounce in the Asian economies and the rebound in PC sales in the U.S. Kulicke's assembly products include wire-and-die bonders, which are used to bond tiny circuit wires to semiconductor chips, and which account for some 60% of equipment sales. Among Kulicke's major customers: Intel, Micron Technology, Lucent Technologies, and Motorola.
Black figures that Kulicke has a 70% share of the market in the U.S. market and 33% worldwide. Stronger demand for more advanced systems has raised spending on assembly equipment, pushing up orders for Kulicke bonders, says Black. Analysts expect Kulicke to post a loss this fiscal year (ended Sept. 30.). Black figures Kulicke will be back in the black in 2000, with earnings of $1.25 a share on revenues of $600 million, and $2 on $690 million in 2001.