Czech Republic: Nothing To Do But Cut
By
In a surprise move, the Czech central bank on Oct. 4 trimmed policy rates for the ninth time this year. The cut is aimed at reversing an upward trend in the Czech currency and rescuing the drowning economy.
The quarter-percent cut in the two-week repurchase rate, to 5.75%, brought the total decline in the rate to 3.75 percentage points this year (chart). And as with the previous cuts, the hope is that a drop in rates will curtail the continued strength in the Czech koruna. But thanks to a heavy inflow of foreign direct investment and expectations of privatization of some government assets next year, the currency is holding at an eight-month high against the euro.
The rate cut was also designed to stimulate the Czech economy, which has been in recession since late 1997. Real gross domestic product managed to grow 0.3% in the second quarter over the first-quarter level, thanks in large part to gains in consumer spending and government outlays. But the third-quarter data do not look promising. Retail sales fell back sharply in July to start the quarter, while industrial production remained weak. And unemployment continued to rise last quarter. The jobless rate hit a record high of 9% in August.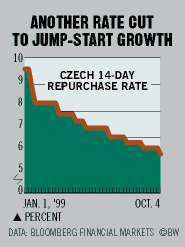 One bit of promising news has been a slower widening in the trade deficit. In August, the trade gap stood at 3.2 billion koruna ($91 million), far less than July's 7.3 billion. Thanks to renewed vigor in Western Europe, Czech exports rose, led by shipments of cars and consumer goods.
In a September revision to its economic outlook, the government said the unemployment rate would increase further over the next two years, hitting 14% by 2001, as Czech companies reorganize to compete in global markets. The government also forecast that real GDP would fall 0.5% in 1999 and then grow 1.7% in 2000. Prague's forecasts are on par with the projections put out recently by the International Monetary Fund. The IMF is looking for Czech GDP to be flat this year and grow 1.5% in 2000.