Asia Hits A Bump
Investors want to see more reform
By
Once again, an eerie silence has fallen on the financial markets of East Asia. Until mid-summer, the region's bourses had spent most of the year roaring back after their worst contractions of the post-war era in 1997 and 1998. And countries from South Korea to Indonesia were boasting that their economies were rebounding far faster than expected. But ever since then, stock and currency markets outside of Japan have been on a gradual--but steady--slide. Hong Kong stocks are down 10% from their highs of July, while Korean shares are down 20%. Measured in U.S. dollars, Thai shares are up only 3% for the entire year. Foreign funds are running from Malaysia. The Thai baht and Indonesian rupiah have gone limp, and foreign bank lending throughout Asia's emerging markets is still shrinking
Is East Asia's recovery stalling? Not exactly. But it is entering a new, more difficult phase. Yes, the underlying economies of Asia are still posting encouraging gains in consumer spending and industrial output. And exporters of everything from computer chips to car parts are enjoying double-digit growth. In Thailand, for example, exports rose 15% in August year-on-year, while imports surged 25%. And if the yen keeps rising against the dollar, as many economists predict, the climate for exporters should stay good since most regional currencies tend to track the greenback.
The worry is that the sagging markets may signal a broader weakening of confidence. If so, new problems could lurk. Consumer spending could sputter again. And investment needed to finish infrastructure projects and modernize factories may be slow to arrive.
Several forces are at work. Two U.S. rate hikes, with perhaps more in the pipeline, have cooled the global appetite for equity investments. And the Japanese yen's relentless ascent against the dollar could force the U.S. Federal Reserve to drive rates higher--making capital more expensive for the region's emerging markets.
SERIES OF HITS. What's more, investors are taking a harder look at reforms that were supposed to rejuvenate East Asia's financial systems and corporations. "The big money off the recovery has been made," says portfolio manager Mark Headley of San Francisco-based Matthews International Funds. "Now, Asia's going to have to earn [future investment] by proving that all these reforms are going to translate into earnings growth."
Across the region, investors are no longer satisfied with what they're seeing. Confidence in Indonesia has been obliterated by the Bank Bali scandal, the military's debacle in East Timor, and worries over political instability. Thai markets have been socked by endlessly messy bank workouts. Malaysia's decision to partially lift capital controls on Sept. 1 resulted in a flight by investors suspicious of that government. And this year's runup in South Korean stocks has been hit by worries of a collapse of giant investment trusts. "Wrap all these things up together, and they add up to an environment of considerable investor uncertainty," says Michael Kurtz, an Asia strategist for London-based economic-forecasting firm IDEAglobal.com.
The yen is adding to the uncertainty. Japan has been a big force behind the region's trade boom. Imports from neighboring countries have jumped 13% this year after dropping 10% last year. But the stronger yen, now near 105 to the dollar, vs. 140 in August, 1998, has also forced Asian companies to buy yen to pay their debts to Japanese banks.
That's hurt regional currencies. The Thai baht dropped from around 37 to the dollar in July to nearly 42 in early October before the Bank of Thailand brought it back to under 40. "If the yen goes to 100, that will put pressure on currencies again," says economist Charles Wheeler of Standard & Poor's MMS International in Singapore.
Concerns over Year 2000 computer mishaps are also giving the markets pause. Even if big Asian companies are prepared, investors fear that problems at smaller companies down the supply chain may wreak havoc. "We've talked to a lot of investors who are talking about reallocating until after the New Year," says portfolio manager Headley. "We've been referring to Y2K as Y2 Not Invest in Asia."
Some falloff was to be expected after the heady gains of earlier this year, when equity prices in China, India, Indonesia, Malaysia, and South Korea rose as much as 60% in dollar terms. But even if Y2K proves to be a false alarm, it will still be some time before the money flowing into Asian markets returns to pre-crisis levels. The Washington-based Institute of International Finance Inc. projects that just $9 billion in portfolio investment will flow into Asia in 2000--down from $15 billion this year and less than half of the total for 1996.
Perhaps more troubling is that foreign bank loans and debt instruments are also forecast to contract this year, by $26 billion, on top of last year's $50 billion contraction, according to the IIF. Next year, foreign lending is expected to shrink by an additional $28 billion. That compares with a $110 billion rise in lending in 1996. Of course, Asian corporations are under pressure to slash debt. But foreign debt issuers, after writing off some $300 billion in East Asia over the past year, also are wary of putting in new money.
Investors are also looking for more reform for their buck. Korea, for example, has been slow to sell off banks to foreign interests, as promised, and quick to keep giants like Daewoo Group from bankruptcy. Now, state-owned Korean Exchange Bank has had to shelve a $1 billion sale of stock because of falling prices and dampened sentiment.
The investor backlash against Malyasia has been especially furious. Foreigners have fled the country since Prime Minister Mahathir Mohamad imposed capital controls in 1998. Cumulative net portfolio investment into Malaysia, which had already fallen by 20%, to $1.2 billion, from July to August, plunged to $178 million in the two weeks after Malaysia lifted the 10% exit tax on repatriated principal of foreign portfolio investments on Sept. 1.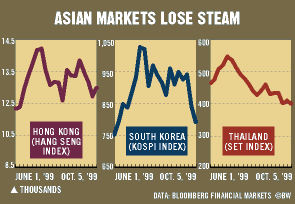 The big test for recovery will come in another year, predicts Daniel Fineman, chief regional strategist for Jardine Fleming, when Asian manufacturers will again need to raise capital to build new capacity. "Will financial systems be healthy enough--and companies' earnings be low enough--to take on new debt?" asks Fineman.
Much depends on how quickly old bad debts are worked out--and if reforms stay on track. "If nonperforming loans cannot be resolved, the recovery cannot be sustained," says Praphad Phodhivorakhun, vice-chairman of the Federation of Thai Industries. It's a warning that pundits have sounded since the Asia crisis began. Now, the markets are sending the same message.