Why Gold Is Precious Again
An extraordinary international sent prices skyward
Joseph Weber
When gold is soaring, inflation must be just around the corner, right? In fact, gold's stunning climb from around $268 an ounce on Sept. 24 to as much as $327 on the spot market on Sept. 28 was not about macroeconomics. "I don't think this has anything to do with inflationary expectations," says George Milling-Stanley, a market analyst at the World Gold Council. "I don't see the connection at all."
What's propelling gold to prices not seen since October, 1997, is the result of a concerted campaign by the mining industry and producer countries to persuade central banks to halt sales of their reserves. The gold gang put the screws to politicians everywhere, demanding that they stop the sales to keep producer countries from falling into economic despair. The effort included demonstrations by impoverished miners at the embassies of such gold-selling countries as Britain and Switzerland, impassioned exhortations by the likes of South African President Thabo Mbeki, and effective arm-twisting in the U.S. Congress.
The pressure helped persuade the International Monetary Fund this summer to hold off on planned gold sales that were supposed to benefit poor countries. The IMF plan withered after officials such as Ghanian Mines & Energy Minister Fred Ohene-Kena complained that their economies were already "reeling" from the price slide. Facing similar complaints, on Sept. 26, 15 European central bankers promised to tightly limit gold sales for five years.
The gold campaign created extraordinarily strange bedfellows. North Carolina Republican Senator Jesse Helms found common cause with Democrat Jesse Jackson Jr. and the Congressional Black Caucus in fighting the IMF plan. Former Canadian Prime Minister Brian Mulroney, a Conservative chum of former President George Bush, sided with Minority Leader Senator Thomas A. Daschle (D-S.D.). Some gold-backers worried about the health of African economies: More than two dozen Congressmen warned President Clinton in June that if gold prices stayed flat, "upwards of 800,000 Africans will be plunged into absolute poverty."
FLUMMOXED. Others fretted over gold's slide as a reserve commodity. Still others worried about the health of such producers as Toronto-based Barrick Gold Corp., where Mulroney is a director, and Colorado-based Newmont Mining Corp. "It's pretty hard to think of any sector of the economy where the lobbying has been as effective as this," says David Christensen, a top mining analyst at Merrill Lynch & Co. in San Francisco.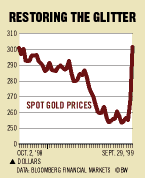 Of course, much of gold's plunge was because of politics as well: Prices collapsed after various governments, including Britain's, announced plans to sell reserves. President Clinton did his part by pushing the IMF to dump some reserves to help heavily indebted countries. Many analysts, meanwhile, admit they're flummoxed by what the "natural" or market-clearing price of gold should be; some think $325 is as good a number as any. So if you want to figure out if gold is heading to $800 an ounce or back to $270, pay attention to the politicians--and the folks who lobby them.
Before it's here, it's on the Bloomberg Terminal.
LEARN MORE