Whatever Workers Want
Unusual perks are de rigueur in Stamford, Conn., where labor is scarce indeed
By
Here in Fairfield County, Conn.--a virtual ground-zero of the full-employment economy-- you can find a six-pound toy poodle named Ginger seated at the conference table of Norwalk's ERC Dataplus Inc. True, her seat is the lap of CEO Paul Rathblott. But Rathblott is just setting an example. He wants the consulting firm's two dozen employees to know he really means it when he says they should feel free to bring pets to work. Or set their own hours. Or work from home. Because if Rathblott doesn't offer such perks, someone else will--like the recruiters who call his director of organizational research at least once a week. "It's a seller's market out there," laments Rathblott, and pay alone won't make disgruntled people stay. "It just makes them better-paid unhappy employees."
What is true for the nation, where unemployment now averages 4.2%, is doubly true for Fairfield County, an affluent area rich in corporate headquarters that sits next to the booming Manhattan job market. The region has plenty of experience with tight labor markets and the need to dangle incentives to attract workers. Historically, its employment rate has always hovered around 4%, thanks to the high number of white-collar workers and professionals who reside in its leafy neighborhoods and commute into New York.
But there has never been anything like this. Unemployment stands at 2%. Radio stations crackle with ads from fast-food restaurants desperately seeking employees. Billboards that once advertised products are now pushing entry-level positions around the Stamford area. One company is contemplating an airplane banner to woo people sunning themselves on the beaches--no doubt on weekdays, and with their employer's blessing.
Everyone has a story. Scott J. Kuppersmith recalls how EDI USA Inc., a Stamford medical processing company where he serves as controller, used to get up to 100 resumes for every position it advertised a few years ago. "Now we're lucky to get three," says Kuppersmith, who has two employment agencies trying to fill a vacancy at the 20-person company. So far, the search has yielded only one resume, despite the fact that EDI can toss out the one lure that seems to work these days: stock options (the company is planning to go public next year). Even with options, two employees started to leave a while ago, until EDI made an old-fashioned adjustment to their salaries and benefits.
Flexibility. So what are Fairfield County's small companies--those without stock options--doing to fight back? Many are trying to spice up job descriptions, offer hefty incentive packages, and generally bend over backward to make sure their employees stay happy. The flexibility Rathblott provides his workers is something now offered throughout the area as a matter of routine. At John S. Herold Inc., a well-known oil-and-gas research company with a staff of 40 in Stamford, one analyst works from 4 a.m. until noon. "He just feels like it," shrugs Executive Vice-President Christine Juneau. The company has also paid to equip a number of home offices and reimburse employees' tuition.
Of course, there's no getting around the fact that companies with 40 people can't offer a conglomerate's range of career options. For Juneau, one remedy is to make jobs more fluid and interesting. That's especially true for lower-level employees, who may jump ship for slight increments in salary or opportunity. "We work to make sure these aren't dead-end jobs," says Juneau, who tries to bring support staff in on analytical work or other projects. She also encourages employees to get more training by not only paying for courses but restructuring schedules to fit class times.
More than Money. Does any of this really matter to employees? You bet. Just ask 28-year-old Kristen E. Brown, an assistant office manager at Trammochem, a 13-person petrochemical trading company in Darien. Conn., that is a division of New York's Transammonia Inc. While many of her friends have chewed their way through several employers in the past four years, Brown stayed put. Not only is her employer reimbursing her part-time MBA studies at Western Connecticut State University but she can arrange her schedule to attend classes. "A lot of my friends don't have this flexibility," says Brown, who says they keep switching for higher pay as a result.
Perks are only part of the solution. What many employees really want these days is an enjoyable atmosphere and a feeling that they're making an impact in their jobs. Buoyed by healthy paychecks and the knowledge that they can easily find new work, many are asking more about co-workers' personalities and the prospects for promotion when interviewing with new employers. Money alone tends to be lower on the list. That was the case with a junior executive at a local online consulting firm, who recently left for a rival. "I didn't feel like I was doing something that mattered," she says of her old employer. So she began chatting with the competition. Her decision to quit was greeted with surprise--and offers of more money. "They just didn't get why I wanted to leave," she said.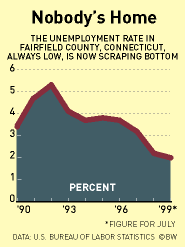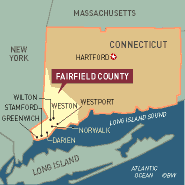 It's hard to match a steady feeling of excitement. Susan E. Cifelli left her job as a middle manager at Bell Atlantic Corp. to become the executive vice-president for marketing and sales at mPhase Technologies Inc. in Norwalk. Although the two-year-old Internet access company offers stock options, generous vacations, and spontaneous bonuses, novelty appears to be the main draw. Cifelli finds the project's buzz and potential payoff more appealing than a steady career path at a big company. "We're doing something that no one else is doing," says Cifelli. "How can you really beat that?" As employers struggle to keep their own teams intact, that question no doubt lingers in their minds.