U.S.: Not Too Hot, Not Too Cold Just Right
Economists see growth slowing just enough to keep the expansion going
by
You can stop worrying about an overheated U.S. economy that could lift inflation and provoke more Federal Reserve interest-rate hikes. The economic forecasters have some good news for 2000. They say that, while faster world growth will boost U.S. exports, U.S. demand will finally cool off, and productivity gains will offset any potential inflationary problems from tight labor markets. So they believe the Fed is on hold, probably all year. Ah, if they could only be right this time.
Business economists, who gathered in San Francisco on Sept. 26-29 for the National Association for Business Economics annual meeting, generally believe that U.S. economic growth will slow from an expected 3.8% this year to 2.7% next year. That's based on an NABE survey of 37 forecasters (table). Once again, it's the Goldilocks forecast: not too hot, not too cold--a mix that will keep everyone from Wall Street to Main Street savoring the longest expansion in the postwar era.
The details look something like this: The economists expect consumer spending to cool off from its red-hot pace in 1999, and they foresee some slowing in business investment in new buildings and equipment, as well as an outright dip in housing activity. Some 95% believe that the Asian recovery will continue through next year, but faster export growth will not prevent the trade deficit from widening further, as imports keep gaining ground. However, the trade gap's drag on overall growth will be considerably smaller next year compared with this year.
The unemployment rate, after averaging 4.3% in 1999, will settle in at 4.4% in 2000, they say, with only a slight pickup in consumer inflation, from 2.1% to 2.3%. Why so tame? Partly because 93% of the forecasters believe that the trend rate of productivity growth has accelerated to about 2%.
The problem is that forecasters have consistently underestimated economic growth in recent years. But this time, another undershoot for 2000 could have heavier implications for inflation and interest rates, as world growth begins to put additional pressure on U.S. labor markets and production capacity. Unlike past years, the Fed is already sufficiently concerned about inflation prospects to have put through two rate hikes this year.
Although the forecasters' best guess is that the Fed won't raise interest rates any further, they believe that the risks are all on the side of higher rates. For now, the threat of another hike at the Fed's Oct. 5 policy meeting appears to have receded, given tame August inflation reports on consumer and producer prices, cooler September readings on payroll gains and wage growth, and the wait-and-see tone of the Fed's statement following its Aug. 24 rate increase.
In addition, the stock market's 8% drop since Sept. 9, measured by the Dow Jones industrial average, will likely provide another reason for holding off on another hike. The NABE economists generally agree that the wealth effect from the market's runup has been a big factor in propelling consumer-spending growth well in excess of income gains, and an extended flattening out of stock prices would dampen spending growth next year.
If overall economic growth turns out to be stronger than projected, the economists think the most likely source will be faster-than-expected inventory growth, given that stockpiles have become extremely lean relative to sales. On the downside, the forecasters are most worried about a stock market correction that could slam consumer spending and business investment. Indeed, 40% of the economists surveyed think that the stock market is sufficiently overvalued that it represents a financial "bubble."
Consumers will be the key to achieving the economists' cooler pace of growth next year. So far, households show little inclination to rein in their spending, but consumer attitudes may be starting to shift at least a bit (chart). The Conference Board's index of consumer confidence dipped for the third month in a row in September, probably reflecting higher borrowing costs, especially mortgage rates, and perhaps some jitters over the stock market.
However, the index is down only five points from its June peak, which was the highest reading in three decades. The board noted that consumers remain generally optimistic about both the economy and job prospects, and that the dip in confidence did not portend any dramatic shift in spending patterns. Indeed, consumer spending in the third quarter appears to be growing at an annual rate of greater than 4%, down only a notch from the 5% pace of the previous year.
The one area where consumer demand is slowing is housing, clearly reflecting the rise in 30-year fixed mortgage rates from 6.7% earlier this year to 8% recently. August sales of existing homes declined for the second month in a row, and purchases of both new and existing homes are off their recent peaks. Further strength this year is unlikely, given the declining trend in mortgage applications to buy a home.
Still, housing activity should remain at a high level, supported by strong job growth, high confidence, and past stock market gains. Despite the recent leveling off, demand remains strong enough to create spot shortages of construction workers and some building materials.
Moreover, there is little evidence of any significant waning in capital spending, especially in high-tech gear. Earlier speculation was that business expenditures would surge early this year ahead of Y2K, only to fall off sharply in the second half. However, orders for computer-related equipment and electronic components have remained strong in recent months, although orders for more traditional heavy equipment have been softer.
The latest evidence: Manufacturers' orders for durable goods rose 0.9% in August after a very strong 4% increase in July, and bookings for capital equipment posted large gains in both months (chart).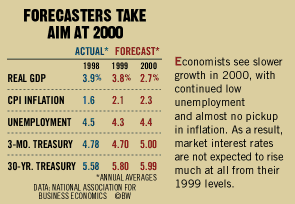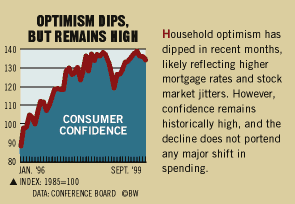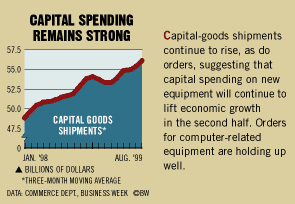 Ongoing strength in the economy is consistent with the NABE forecasters' scenario, however. Their quarterly projections put economic growth in the second half of 1999 at 3.6% in both the third and fourth quarters. In early 2000, though, they expect "some gyration in economic growth" related to the Y2K computer problem, which could result in some temporary loss of output, most likely as some companies unwind any precautionary inventories that they had built up in late 1999. The economists expect growth to slow to 2% in the first quarter of next year.
The ironic note at the NABE's meeting was that this year's theme was "Managing Risk." At a time when the economists were releasing their blue-sky forecast for 2000, they were also concerned about how to deal with the increasing likelihood that something could go wrong. Let's hope the forecasters are right. If we could be sure of that, there would be a lot less risk for everyone to worry about in the first place.
Before it's here, it's on the Bloomberg Terminal.
LEARN MORE