Taking Inventory
High demand has emptied shelves. Should you restock?
Kathleen Madigan
If your shelves have been looking bare lately, you're not alone. Faced with an unexpectedly robust first half of the year, businesses everywhere are carrying the smallest level of inventories on record.
According to the Commerce Dept., inventories economywide amount to just 1.34 times the level of sales, the lowest ratio in history. Businesses had expected the economy to slow this year and adjusted their inventory levels accordingly. Instead, growth has remained above 3%. Combine an economy that won't quit with the demand of the upcoming Christmas season. Add the threats of Y2K-related computer mishaps, real and perceived, and there are plenty of reasons why small businesses are looking to stock up now. The National Federation of Independent Business says in its August survey that more small-businesses are showing plans to build inventories over the next three months, after a slowdown in 1998 and early 1999. Just 7% of its members thought their inventories were too high.
By contrast, the National Association of Purchasing Management, which follows companies of all sizes, says in its most recent survey that 38% of nonmanufacturers felt their inventories were excessive, while just 11% of manufacturers thought so.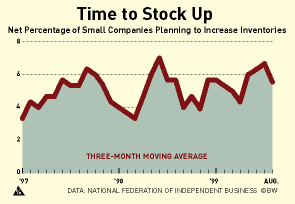 Should you increase inventories, particularly as Y2K draws near? Check first if your suppliers' computers are compliant. But don't stop there, says Allen B. Falcon, president of Horizon Information Group Inc., a six-person technology and management consulting firm in Boston. "Think about their financial system, if they have been dependable in the past, and the reliability of the distribution system," he says. "What happens if their trucks can't deliver?" Falcon suggests lining up a contingent supplier. If you sell a product with Y2K risks, such as electronics or computer-enhanced tools, you may also need to revalue your inventory or rethink your warranty plans, he says.
Of course, carrying too much inventory has its downside for small, lean companies now that interest rates have risen. That inventory is more costly to keep on hand than it was six months ago. In the end, you'll have to do a careful balancing act to find the level that's right for your business. Isn't that always the way?
Learn more about controlling Y2K fallout by clicking Online Extras at frontier.businessweek.com
Before it's here, it's on the Bloomberg Terminal.
LEARN MORE