Spain: Somebody Turn Down The Heat
by
The euro zone's one-size-fits-all monetary policy is proving to be too loose for Spain, the euro bloc's fourth-largest and second-fastest-growing economy. Because fiscal policy is not sufficiently tight to offset the stimulus from the European Central Bank's 2.5% policy rate, which was cut in April from 3%, Spain is in danger of overheating.
Spain's Cabinet approved a 2000 budget on Sept. 24 that projects economic growth of 3.7% next year, the same as in 1999, and a drop in the budget deficit to 0.8% of gross domestic product, from 1.4% this year. However, deficit reduction is coming solely from the revenue side, boosted by the strong economy, while outlays are set to rise 4.7% next year, partly reflecting spending programs designed to lift employment, civil service pay, and minimum pensions.
The budget, the last before next year's elections, is expected to be passed in December. Unemployment, at 15.9% in July, is projected to fall to 14.2% next year. That's down from a peak of more than 24% five years ago, but it's still the highest in the euro zone.
The government projects inflation to fall to 2% in 2000 from 2.4% in 1999, but private analysts, who generally agree with the government's growth forecast, say the inflation target is overly optimistic. Inflation accelerated to 2.4% in August, above the ECB's 2% ceiling and matching April's 27-month high. The government is expected to institute a second set of inflation-containment measures, the first coming in April after the ECB's rate cut. The surge in oil prices--to $25 per barrel on Sept. 29--is a particular concern.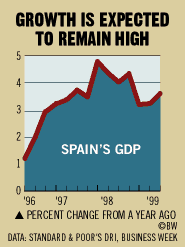 Inflation will likely rise further amid continued strong economic growth, reported at 3.6% in the second quarter, compared with a year ago. Growth continues to be driven by domestic demand, up 5.3%. Retail sales in July were especially strong, and the stimulus from the ECB's April rate cut has not yet been felt.
But now foreign demand, which has been a drag on growth, is starting to pick up, thanks to recovering European economies, which account for 70% of Spain's exports. Given its own policy choice, Spain would likely opt for higher rates right now, but the ECB is unlikely to move until recoveries in Germany and France are more firmly in place.
Before it's here, it's on the Bloomberg Terminal.
LEARN MORE