Salton May Be Set To Reheat
by
For a small-cap company specializing in household appliances, Salton (SFP) has been a huge winner in the stock market. Its stock, which traded at 15 in late April, vaulted to 33 11/16 in late August. It has since scaled back to around 27, but if its fans are right, Salton should heat up again. Analyst Peter Schaeffer of Donaldson, Lufkin & Jenrette thinks the stock will hit 40 in a year. Money manager Doug Raborn, who heads his own investment firm, Raborn & Co., thinks Salton could go even higher--to 45, based on his 2000 estimated earnings of $3 a share. "The steady flow of new products at Salton has attracted big customers, including Wal-Mart Stores, Kmart, Sears, and Target," says Raborn.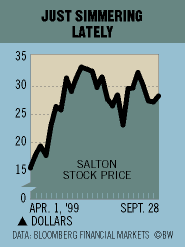 "Salton is hot, its products are hot, and their pipeline should be able to maintain adequate growth," says Donaldson's Schaeffer, who recently raised his 2001 earnings estimate from $3.38 a share to $3.63. Salton earned $2.37 in the year ended June, 1999. Among Salton's products are George Foreman grills, the Juiceman, and the Breadman. Sales of George Foreman products continue to grow, with no signs of leveling off, says Schaeffer, and Salton's private-label products for Kmart and Sears helped the company post a solid earnings gain of 217% in fiscal 1999, he says.
Before it's here, it's on the Bloomberg Terminal.
LEARN MORE