When STMicroelectronics (STM) was first featured in this column on Jan. 1, 1996, its stock was at split-adjusted 16 1/2. By the time the company (formerly SGS-Thomson) was again highlighted, on Aug. 25, 1997, the stock had streaked to 45. The stock is now trading at more than 78, a hefty advance of some 380% in about three years. And guess what? Some analysts and major investors argue that the stock is headed toward 100.
What's driving this maker of semiconductor circuits and discrete devices? "There aren't many global semiconductor plays around, and STM is poised to benefit from the industry's recovery, which is still in its early stages," says Patricia Hutchinson of Scudder Kemper Investments, which has been accumulating STM shares.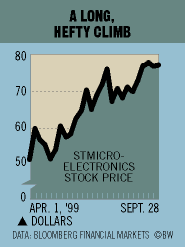 Analyst Tom Murtha of Rowe-Price Fleming International, which also has been snapping up STM shares, says that despite the impressive advance, STM is still underappreciated. It sells at a big discount to rival Texas Instruments, which trades at 32 times the estimated 2001 earnings. STM, by contrast, trades at just 23 times Murtha's estimated 2001 earnings of $3.50 a share. If STM were to reach a price-earnings ratio of 30, the price would be at 105, says Murtha, whose target for the stock in 12 months' time is at least that much. STM is a major supplier of chips for "information appliances," such as wireless phones, TV set-top boxes, and car safety devices.
STM's strong position in communications, digital, and automotive markets should help it gain market share, says Mark Edelstone of Morgan Stanley Dean Witter. This puts STM in a position to be able to raise prices, which could lead to accelerated revenue growth and "positive earnings surprises," he adds. Part of STM's strength, says Edelstone, stems from its strategic links with such big customers as Alcatel, Hewlett-Packard, Nokia, and Nortel Networks.