Looking To Tame A Big Neighbor...And Clean Up A Mess, As Well
Ariane Sains
From its hilltop perch in central Helsinki, a Russian Orthodox church looms over the gleaming, cream-colored Presidential Palace. It's a reminder of the days when the Grand Duchy of Finland was a jewel in the Russian crown. With fewer than 100 years of self-rule behind them and the cold war barely over, the Finns hardly need such reminders. But instead of trying to keep plenty of distance between themselves and their neighbor, the Finns want to bring Russia into Europe. And they think natural gas is the way to do it. "It's not very easy to go to individual countries and say, `This is in everyone's interest,"' says Peter Stenlund, a Finish Foreign Ministry official. "But it has been possible with nuclear issues, and we think it's possible with other energy issues as well."
Throughout its European Union presidency, which runs through the end of the year, Finland has been pushing an initiative dubbed Northern Dimension, which aims to integrate Russia's economy more closely with Europe's. In November, the Finns will host a meeting of European foreign ministers to set up a concrete program for the initiative. The plan's philosophy is modeled on the Marshall Plan, but unlike traditional aid programs, this one is based on mutual economic interests.
To meet the carbon dioxide emission-reduction targets of the 1997 Kyoto Protocol, Western European countries will have to junk coal-burning power plants and find something cleaner. By 2010, the European Union has pledged to reduce carbon dioxide emissions 15% from 1990 levels. Overall greenhouse gas emissions are supposed to come down by about 8% from 1990 levels by 2008 to 2012.
Even many European Greens admit that gas is the logical alternative, or at least a transitional step on the way to renewable energy. It's more environmentally friendly than coal and probably cheaper than new nuclear plants. Eurogas, a trade organization, estimates that by 2020, demand for natural gas will be up 45% from 1997 and that it will account for 27% of all energy consumption, up from 22% now. Given the numbers, Europe clearly needs to boost its gas imports; the Russians have the gas and need hard currency. At present, Russia exports about 130 billion cubic meters annually to Western Europe. A new pipeline could carry as much as 38 billion annually by 2020.
FIRST CRACK. That makes the energy sector a perfect place to start the Northern Dimension, says Stenlund. The EU is looking at building a $3.5 billion pipeline from Russia to the Nordic countries and from there to the Continent. The other alternative is to start in Norway and go through Sweden and Finland to Russia, but that would mean Norway would get first crack at shipping its gas to the Continent. But even Finland's Green Environment Minister, Satu Hassi, who favors Norwegian gas, admits that economically, gas from "Russia is probably more realistic" because it's cheaper. If the EU starts planning now, a pipeline could be ready in 10 years.
The Finns believe their program can succeed, especially since Russia's latest crisis has scared Western European countries. And they see it as the first step in integrating other former Soviet republics such as Ukraine. But they are also pragmatists. "One needs a great deal of patience in dealing with Russia," says Stenlund. "That's something we in Finland know well."
The environmental part of the Northern Dimension calls for cleaning up everything from nuclear waste to scrap from nickel mines, especially on Russia's Kola Peninsula. Both waste and scrap are leaking into the Barents and Kara Seas and will eventually filter into the Atlantic. That, says Stenlund, should be a powerful incentive to Western Europe to help with a cleanup.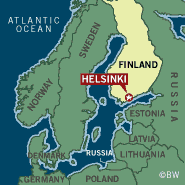 Although Russian authorities have been reluctant to open military areas, which have some of the heaviest nuclear debris, for inspection, the Finns figure economic self-interest will triumph here as well. The peninsula's proximity to Norway, Sweden, and Finland gives it the potential to be a major trading region, and environmental cleanup could pave the way for ecotourism. Of course, with cleanup costs estimated at more than $2 billion, Stenlund knows the Finns have their work cut out for them. Up to now, he acknowledges, "it has gone slowly." But he's still hopeful Finland can give Europe a push.
Before it's here, it's on the Bloomberg Terminal.
LEARN MORE