Imax Could Put Ballantyne In Focus
By
If there is a small-cap stock that has been battered severely, it is Big Board-listed Ballantyne of Omaha (BTN), which makes movie projectors and lighting gear used by such theater chains as Loews Cineplex and AMC. Shares of Ballantyne have dived from more than 10 in early January to 5 on Sept. 29. Disappointing third-quarter earnings and a foiled attempt to acquire Britain's Digital Projection International prompted investors to head for the exits.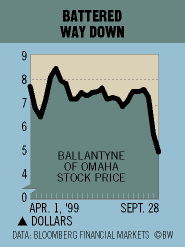 But not everyone did. Some pros think Ballantyne's losing Digital, which ended up being acquired by big-screen theater operator IMAX, will produce good news. Ballantyne and Digital have a pact to cooperate in digital projectors, with Digital supplying technical knowhow and Ballantyne providing manufacturing and distribution capabilities. Michael Legg, an analyst at Prudential Securities, says IMAX may simply decide to acquire Ballantyne to assure that the Ballantyne-Digital joint project stays. "IMAX could attempt to buy Ballantyne outright or acquire the 26% stake in Ballantyne that ARC International owns," argues Legg. Ballantyne was spun out of ARC, a developer of ice-skating facilities, and the two companies still share the same chairman, Arnold Tenney.
Legg thinks that Arc would be inclined to sell its interest. He figures that Ballantyne is worth 13, based on his 2000 earnings estimate of 85 cents a share.
Some investors believe that Tenney has been approached by an investment banker on behalf of IMAX for a deal. Tenney, however, declined to comment.