Commentary: This Correction May Well Have A Silver Lining
Marcia Vickers
Are the fat times really behind us? As the result of an almost uninterrupted downward drift beginning on Sept. 23, the major stock-market averages have moved into bona fide correction turf. On Sept. 29, the Dow Jones industrial average and the Standard & Poor's 500-stock index sunk more than 10% off their highs for the year. But fear not. Analysts like Alfred Goldman, chief strategist at A.G. Edwards & Sons Inc., believe we'll be healthier in the long run. "Investors have gotten fat off filet mignon and the finest wine over the past two years," Goldman says. "Now, it's time for some veggies."
UNCERTAIN RALLY. The new diet may leave a bitter taste with investors, but it's good for the market. For one thing, it has at least temporarily deflated what Federal Reserve Chairman Alan Greenspan said in June were "unsustainable levels" in stock prices, perhaps making another interest-rate hike unnecessary this year. It has trimmed S&P 500 valuations from a lofty 1999 high of 28 times forward earnings to a healthier 25. That's particularly good because the higher the market has gone, the narrower and more uncertain the rally has been: Seventy percent of the gain in the S&P 500 year-to-date came from increases in the prices of just 10 stocks.
Why is this good for us? More realistic valuation levels should mean more issues will participate in the market's advance. And the current correction, and possibly more small ones to come, are a relatively painless way to move the market onto firmer ground--compared with a fall from a higher peak. A less buoyant market will most likely curb the voracious appetites of overly exuberant day-traders and speculators. That should make the market less a gambling casino, easing the extraordinarily high volatility.
A 10% correction off the astounding highs that the market hit in July is not exactly a plunge--there has to be a 20% drop before it's considered bearish territory. It is, however, notable in the context of the market's performance in recent years: The S&P 500 now is up only 4.1%, compared with 28% for all of 1998 and 33% in 1997. True, last year at this time the market's percentage gain was also in single-digit territory, but two subsequent interest-rate cuts propelled the market to double-digit increases by the end of the year. It's highly unlikely that scenario will repeat itself.
This therapeutic regimen is occurring for two major reasons: inflation fears and currency worries. Surging energy prices, tight labor markets, and a weakening dollar all point to rising inflation--even though the betting on the Street is that the Fed will not raise interest rates on Oct. 5. "Though interest rates may not go up dramatically for the rest of the year, the direction is still up rather than down," says Douglas R. Cliggott, U.S. equity strategist at J.P. Morgan & Sons.
While inflation remains somewhat theoretical, the market is fixating on the dollar. Although it has recovered a bit from its plunge vs. the Japanese yen, the greenback is far off its highs, making it more costly for Americans to buy all those Japanese cars and electronics. "A meaningful break of the yen's upward stride needs to occur before the U.S. market is satisfied," says George A. Murnaghan, executive vice-president at Rowe Price-Fleming International Inc. in Baltimore.
EASY COMPARISONS. A weakened dollar combined with an improving global scenario has prompted both U.S. and foreign investors to pump more money into investments outside the U.S. That's also putting a damper on American equities. "They're starting to realize that the U.S. isn't the only safe haven," says James M. Griffin Jr., market strategist at Aeltus Investment Management Inc.
The averages might get a bounce from third- and fourth-quarter earnings, which are expected to come in 22% and 21% over last year, according to I/B/E/S International Inc. But that may not be a lasting rally, given the easy comparisons with last year's results, which were hurt by Asia's economic meltdown. "There are some easy comparisons over last year, but we're not complaining," says Joseph Abbott, chief strategist at I/B/E/S.
Investor confidence is also beginning to slip. According to a study by J.P. Morgan, in the first six months of this year, Americans plowed more money into tangible assets such as cars, boats, and houses than they put into financial assets like stocks and bonds, for the first time since 1955.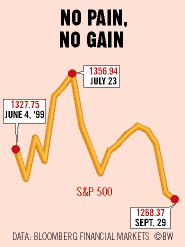 Of course, nobody likes to stick to a diet. Never fear, there may soon be opportunities to start picking up some bonbons at reasonable prices. But investors shouldn't expect a resumption of the bull market's double-digit gains without a change in underlying conditions. The rising interest-rate environment and a weakened dollar could mean little or no gains in stocks for the rest of 1999, money managers warn. We could even be in negative territory by year's end.
In addition to being healthy for the market, this is good news for long-term investors who have been patiently waiting on the sidelines for a buying opportunity. Meantime, investors who are caught in the downdraft will have to eat their veggies--and hope there's still some room for dessert.