Commentary: Food Deals May Leave You Hungry
Amy Barrett
For investors in food stocks, news that Bestfoods and H.J. Heinz were talking merger may have seemed like the answer to their prayers. Weak growth has made many food stocks dismal performers, with the Standard & Poor's food index down 17% this year, vs. a gain of 4% for the S&P 500. Although the Bestfoods-Heinz merger discussions collapsed, observers still expect consolidation among industry giants, with the best matches involving U.S.-focused companies, such as Heinz and Campbell Soup, and players with international reach, such as Bestfoods, Nestle, or Unilever.
But don't dive into food stocks expecting to get rich quickly. The industry remains a slow-growth one, and any mergers are unlikely to involve the high prices seen in other industries' consolidation waves. "I wouldn't be investing in food stocks just on the consolidation thesis," says T. Rowe Price analyst Art Cecil. "You can't count on a sugar daddy coming along to pay a big premium."
That would be a big switch from the go-go 1980s, when companies like R.J. Reynolds Tobacco, Philip Morris, and Nestle were snapping up food companies. But Sanford C. Bernstein analyst Craig Albert points out that the industry's annual sales and earnings growth rates back then were 10% and 12%, respectively. And acquirers had plenty of dough to throw around, as many deals were debt-financed buyouts. David Jacobs, managing director at Morgan Stanley Dean Witter, says such deals give shareholders of acquired companies more up front than in all-stock mergers because they don't share future earnings gains.
Today, with inflation quiescent, foodmakers have little room to raise prices as they did a decade ago. They're also being squeezed by big retailers. So it's hardly surprising that companies like Heinz, which announced on Sept. 27 that it would buy a 19.5% stake in Hain Food Group, an organic products maker, are pushing into faster-growing markets.
Albert expects companies in the S&P food index to show annual revenue and earnings growth over the next five years of just 2% and 6%, respectively. Yet these stocks are hardly cheap, fetching an average of 21 times estimated 1999 earnings. And many food companies that could link up are about the same size. That favors mergers of equals with little or no premiums paid to shareholders of either company.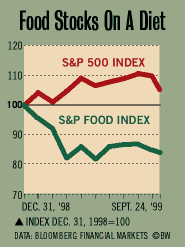 Eventually, mergers in the food industry should benefit investors--but the key word is eventually. Most food companies already run lean operations, the result of previous restructurings, so the real payoff is likely to come through higher revenue growth. Marriages between domestic and global food-industry players could trigger a pickup in sales growth as foreign companies gain access to U.S. supermarket shelves and American-focused ones increase sales abroad. That should finally drive decent gains in food stocks. But you'll have to be patient to see that come about.
Before it's here, it's on the Bloomberg Terminal.
LEARN MORE