With Dial, Clorox Could Clean Up
Might you be glad you bought Dial?
By
Shares of Dial (DL) are scraping bottom--at 27, not far from this year's low of 26. It was flying high at 38 in late June, when rumors swirled that the soap-and-detergent maker was a possible takeover target. As often happens, the hot money jumped ship when the rumors got cold. And fears about competition from Wal-Mart Stores' private-label detergent added to the pressure on the stock. But with the raging consolidation in the household-product industry, some pros believe that those early takeover rumors were founded on more than just froth.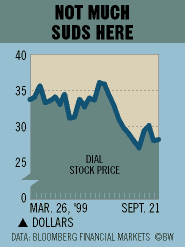 One money manager at a major Wall Street investment bank, who has been snapping up shares, insists that Clorox, a diversified producer of household-cleaning and grocery products, is "interested in acquiring Dial to add more brand names to its line." Clorox wants to expand, he says, its stable of brands, all of which are either No. 1 or No. 2 in their product categories. Dial's Purex detergents, Dial bar soap, Breck hair products, and Armour canned meats are among the products that Clorox covets, according to this pro. Clorox is "great global marketer that needs more brands to manage," he adds. He thinks Dial is worth 30 to 40 in a buyout.
Analyst Andrew Shore of PaineWebber says that at its current price, Dial is too cheap to ignore: "It is now vulnerable to a takeover." But he doesn't see it happening over the next six to nine months. Dial and Clorox both declined comment.