Time To Cry In Your Beer
James Drake
Touring Chodovar, a tiny 16th century western Bohemian brewery, with owner Jiri Plavka is a little like being shown around a medieval cathedral by an art lover. Plavka strides through a vaulted drying room where hops hang from ancient stone arches and past swathes of malt laid out to cure on the flagstone floor. As he reaches the rumbling old copper boilers, where some 150,000 hectoliters are produced each year, his face takes on the glow of a mystic approaching an object of veneration.
But when he talks about beer sales, the glow fades. "If this government doesn't wake up, then all this will soon be a thing of the past," mourns Plavka, dipping his finger into a fermenting tub. The head of thick foam gives the tub the appearance of an enormous bubble bath. "Small breweries like mine are a defining part of our culture," says Plavka. "[But] we're in danger of losing something special."
Indeed, the Czech Republic, with 70 breweries and a population of 10 million, boasts the highest per capita beer consumption in the world, some 155 liters. But with the fall of the Iron Curtain, the Czech Republic's brewing industry, once a source of national pride, is being taken over by outside corporations. Japanese investment bank Nomura Securities, Austria's Binding Brauerei, and Britain's Bass brewing group are among the foreigners that are bellying up to the bar. Just six brewing groups--five of them controlled by foreign interests--account for 80% of domestic sales. Five years ago, there were no foreign owners. Small breweries are already being squeezed, and 15 have gone out of business in the last seven years.
COMPROMISES. The takeover worries Czech beer drinkers, whose concern goes beyond national pride. They're afraid that mass production will affect the taste of Czech beer and that the breweries remaining in local hands will compromise on ingredients and expensive, time-consuming brewing techniques so that they can compete.
The reason behind the acquisition spree: "This is the world's best beer, so it's eminently exportable," says Graham Staley, manager of four Bass breweries in the Czech Republic. "The labor is cheap. The product is cheap. All we really have to do is market it, don't we?"
It's not quite that easy. The new brews aren't exactly the fabled Czech beer known worldwide for chemical-free, full-bodied flavor. To increase shelf life, the top exporters have begun pasteurizing beer. Plzensky Prazdroj, which makes Pilsner Urquell--universally hailed since pre-communist times as one of the world's greatest beers--has doubled capacity in the last three years. To do so, Plzensky Prazdroj, controlled by Nomura Securities Co., built a state-of-the-art brewhouse with stainless steel vats. The old brewhouse has been turned into a parking garage, while the oak vats were sent to a company museum. "Prazdroj was a brewery. Now it's a factory," acknowledges CEO Jaroslav Perina. "We're in a global economy. We have to adapt or die."
The government is adapting, too. There are rumors Nomura may acquire state-owned Budejovicky Budvar, the country's sixth-largest brewery, with 38% of exports. The Czech Republic will decide on a buyer later this year. If the country "does not allow the establishment of one big and strong producer, it eliminates the ability of the Czech beer industry to succeed in foreign competition," says Deputy Prime Minister Egon Lansky. In March, the Czech Republic's competition office, UOHS, gave approval to Nomura to acquire Radegast, the nation's second-largest brewer. So even without state-owned Budvar, Nomura will control nearly half the Czech Republic's brewing capacity, and industry experts say that economies of scale could drive the figure to as much as 70% in the next few years.
If that happens, predicts Ian Wolverton of the Campaign for Real Ale, a Britain-based consumer group that lobbies worldwide for the preservation of small breweries and traditional brewing techniques, mass production could make the Czech Republic's beer as ubiquitous as, say, Budweiser, which is brewed by Anheuser-Busch Companies of St. Louis. Anheuser-Busch, incidentally, was founded by a Czech immigrant. A Prazdroj-Radegast merger would drive more small breweries out of business, leaving the survivors "spewing out cheap, uniform Euro-fizz. [That would] tarnish the reputation of Czech beer and destroy its strongest selling point," Wolverton says.
TARTING UP. Nonsense, responds Nomura, which claims it's protecting the integrity of the Czech beer. Nonetheless, Nomura itself might sell its beer interests and has received offers from several brewing conglomerates. They include the Dutch giant Heineken, South African Breweries, and Kirin of Japan. "This is precisely how [Nomura makes its] money, by buying up companies, tarting them up, and selling them at a profit," says Stanislav Bernard, head of family-owned Bernard Brewery and chairman of the Czech Union of Small Breweries. The association plans to appeal the UOHS verdict. "It's our duty to stop them if we can," says Bernard.
But consolidation doesn't seem to concern the Czech Republic's competition office. When Krusovice Brewery, owned by Binding, and Radegast were fined $10,000 each for demanding exclusive agreements with pubs, the two brewers appealed, claiming they had stopped the practice. The UOHS obligingly reduced the fines to $1,500 and $285, respectively, to be paid over five years. "It is not our job to protect small breweries," says UOHS Deputy President Ludek Svoboda. Richard Crha, editor-in-chief of Pivny Kuryr, a magazine for Czech beer connoisseurs, says sarcastically: "That really has sent out a strong signal. Anyone else thinking of trying the same trick will now be thinking, `Goodness, we'd better not play games with the UOHS."'
Giant brewers have already taken advantage of the UOHS's relaxed attitude. Six years ago, Prazdroj introduced a cut-rate label, Primus. Competitors, in turn, were forced to hold their prices or introduce their own low-priced brands. That has driven several small breweries out of business. The UOHS seemingly has turned a blind eye to predatory pricing, and last summer, Radegast introduced Klasik, which sells for just 18 cents a bottle, the price of a regular bottle five years ago. (With inflation, that figure would be equal to $1.10 today.) That price was about two-thirds of what it cost 350-year-old Vsetin Brewery to produce a slightly better beer, and the company shut down last year. "It was a question of who blinks first and of course, it wasn't going to be Nomura," says Vsetin director Jiri Badura.
Things could get worse for independent breweries. Prazdroj and Radegast already share warehouse facilities, for instance, and that's just the beginning. "If you apply that process right down the line, buying grain and malt and what have you, you get cheaper costs, better access to capital, and so give yourself a pretty healthy financial base," says Randall Dillard, Nomura's European financial director.
BAD AFTERTASTE. All this is giving Czech beer drinkers a bad aftertaste, especially the die-hard pub patriots at the Black Bull, a beer hall in Prague's Castle District and a longtime haunt of intellectuals and communist-era dissidents. With the fall of communism in 1989, regulars bought the pub from the state to prevent the touristification that has become the fate of surrounding watering holes. The Black Bull's bare floorboards, stodgy cuisine, and smoke-filled air keeps many Westerners away. But what the Black Bull and other pubs can't control is the creeping Westernization of Czech beer.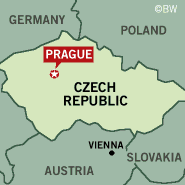 "To be fair, under communism, the quality was extremely variable," says poet, novelist, and rock music lyricist Jachym Topol as he sips a bitter Velkepopovicky Kozel with his meal of pork and pickled cabbage. "Sometimes it was divine, sometimes terrible, because they'd run out of the right ingredients. But if you start playing safe too much, it won't be Czech beer anymore."
Back at Chodovar, Plavka pours out a half liter of foaming suds that he offers visitors at the end of a tour. He isn't afraid of foreign competition, Plavka says, but he worries about foreigners who are interested only in the bottom line. If foreign interests take control of the industry, brewers say, Czech beer lovers will no longer have to beware of imitations--because before long, there might not be anything worth imitating.
Before it's here, it's on the Bloomberg Terminal.
LEARN MORE