This Cable Outfit Is Getting Tuned In
In cable TV, Blonder Tongue Labs has a pact with Cablevision
by
No, Blonder Tongue Laboratories (BDR) isn't in the hair-coloring or meat-processing business. The company, named after two founders, makes electronic equipment for the franchised and private cable-TV industries. It recently attracted attention when it announced a $16 million pact to supply Cablevision Systems with its HomeControl "interdiction" units for 100,000 cable subscribers in New York. Interdiction products allow cable operators to control service at the cable office rather than the subscriber's location--so that operators don't have to dispatch costly technicians to remedy trouble.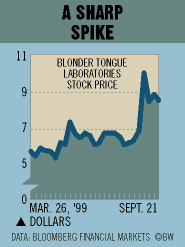 Blonder's stock, trading at 5 in early August, moved up to nearly 9 on news of the Cablevision deal. It has since dropped to 7 5/8. The betting is that Blonder will soon announce another agreement larger than Cablevision. One big investor says Blonder has been in talks for such agreements with several large operators, including Time Warner and Tele-Communications. He figures that sales from interdiction products alone could hit $40 million in 2000, with overall sales rising to $100 million, up nicely from 1999's estimated $65 million. This investor, who has been accumulating shares, figures that 2000 earnings will jump to $1.20 a share, up from 1999's estimated 40 cents.
Blonder, says this investor, has yet another hidden attraction: Management, which controls 65% of the stock, disclosed in its proxy statement in May that it received two acquisition offers. The board dismissed the offers as inadequate.
Before it's here, it's on the Bloomberg Terminal.
LEARN MORE