Switzerland: Surprising Growth And No Inflation For Now
by
Strong gains in construction and exports are lifting the Swiss economy beyond expectations. The healthy boost has lOwered unemployment but hasn't yet triggered a serious rise in inflation.
The real gross domestic product grew at an annual rate of 1.2% in the second quarter, following an upward revision in first-quarter growth from 0.4% to 0.9%. Both gains were larger than expected and put the Swiss economy on track to meet the government's 1999 growth forecast of between 1% and 1.5%, a projection once thought optimistic. Real GDP grew 2% in 1998, thanks to a spurt in the first half.
In the second quarter, a favorable exchange rate between the Swiss franc and the euro contributed to the 6% advance iN exports--which account for almost half of the Swiss economy. Low interest rates, meanwhile, helped construction expand at an annual rate of 5.9%. More important, the monthly data suggest the economy is barreling along in the third quarter as well. Retail sales rose in both June and July. And in August, the purchasing managers' index was up to a strong 55%, consumer confidence was the highest in nearly 10 years, and the jobless rate fell to 2.6%.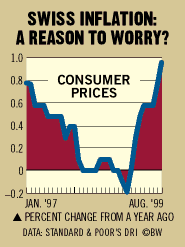 The growth surprise has raised speculation that the Swiss National Bank may hike interest rates before any move by the European Central Bank. The policy rate now stands at 0.5%, the lowest in the world besides Japan. The SNB has stated that it could move before the ECB if inflation were to become a worry. While inflation is running above last year's pace (chart), this runup is mostly due to higher energy prices. Despite costlier fuel, total consumer prices in August were up just 0.9% from a year earlier while producer prices are still declining.
In addition, the talk of a rate rise, together with the GDP data, has lent some support to the Swiss franc, which had weakened against the euro and the dollar. A stronger franc could give the SNB some breathing room, holding down inflation through cheaper import prices and also slowing export growth.
Before it's here, it's on the Bloomberg Terminal.
LEARN MORE