Phelps Dodge: King Of The Copper Hill?
Its bid for two mining rivals looks bound to prevail
Steven V. Brull
After nearly 40 years at copper giant Phelps Dodge Corp., including 10 as CEO, Douglas C. Yearley had his eye on retirement next May. The 63-year-old opera and history buff, who had open-heart surgery last March, dreamed of leaving the Phoenix heat for his Cape Cod home overlooking Nantucket Sound.
Instead, Yearley has launched a hostile bid to halt the proposed merger of two other big copper miners--Asarco Inc. and Cyprus Amax Minerals Co.--and merge them into Phelps, instead. The latest move: On Sept. 22, Yearley sweetened his takeover bid for a second time, to $2.83 billion, including almost $1 billion in cash.
What's Yearley up to? He wants Phelps Dodge to lead the consolidation of the American copper industry and preserve the 165-year-old legacy of his firm, which ranks with DuPont and Procter & Gamble among the most venerable U.S. companies still bearing the founders' name. "He had been ready to retire, but now he's totally focused," says his wife, Anne.
SURVIVOR. For Yearley, a competitive but mannerly leader who studied metallurgical engineering at Cornell University, the acquisitions would crown a distinguished career. He joined Phelps in 1960 after a two-year stint as an engineer on the Polaris submarine project. After rising steadily through the ranks, he joined a cadre of execs in the early 1980s who overhauled Phelps Dodge, allowing it to skirt bankruptcy. As CEO, he made its operations more efficient and less hierarchical.
The acquisitions would leave Phelps Dodge the last big North American copper miner. And with a global market share of about 15%, it would be even with the world's biggest copper miner, Chile's state-owned producer, Codelco. More important, Yearley would leave Phelps in a position to survive in an industry swamped by overcapacity, cheap imports, and prices near the all-time low.
Phelps Dodge seems likely to prevail with its latest offer, which pushed up the prices of all three players. Asarco and Cyprus had no immediate comment: Their shareholders are due to vote on the original two-way deal on Sept. 30. The two firms have been demanding some $470 million more than Phelps's latest offer, arguing that they would contribute 92% of total administrative and operational synergies and 91% of the cash in a three-way combination. Yearley calls their price "ludicrous" and their analysis "bogus."
PERSUASION. Yearley is winning support among analysts and shareholders for a three-way deal instead: "Cyprus and Asarco realize the game is almost over, and the only viable alternative is to sit down and talk to Phelps," says Michael J. Chren of Orlando's DePrince, Race & Zollo Inc., which owns just over 1% of Cyprus' shares.
To persuade shareholders of the rival firms, Yearley has been putting in 75-hour weeks crisscrossing the continent and working the phones. By Sept. 30, Yearley says he will have met or spoken with half the rivals' shareholders. "He's driven," says Chren.
If consolidation is the game, Phelps should win it, Yearley figures. It's the largest and most liquid company in the copper sector, and it has managed to perform impressively despite the pricing squeeze. It posted net earnings of $1.2 million in the three months ended June 30, compared with losses of $34 million at Denver-based Cyprus and of $21.1 million for New York-based Asarco during the same period.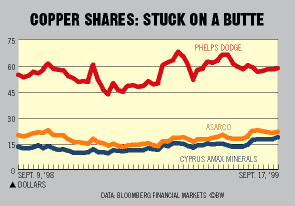 Yearley can claim much of the credit. He helped save the company from bankruptcy in the early 1980s as part of a team that closed mines and smelters, cut one-third of the workforce, kicked out the unions, and moved the company's headquarters from Manhattan to Phoenix. "We came out of the '84 disaster traumatized," says Yearley. "We concentrated for five years on survival, and since then on growth and optimization."
Still, in an industry as traditional as mining, management concerns go beyond price. Asarco has been operating for a century, and Cyprus since 1916. Both managements would be loath to see their names buried forever. "It's not only about money but about whose portrait will be on the boardroom wall 50 years from now," says one analyst. For Yearley, knowing that the Phelps Dodge lineage prevails would make the Nantucket Sound breezes even sweeter.