Cidco's Second Wind?
Phone-gear maker CIDCO has a new Net appliance.
By
A stock you might wish you had discovered earlier--in March, to be precise, when it was trading at around 4--is CIDCO (CDCO). This developer and maker of devices for caller-ID, voice-mail navigation, and Internet access has since soared above 13. Is the game over, then, for this fast-rising stock? Some investors bailed out after the upswing. But Brion Tanous, a senior analyst at First Security Van Kasper, thinks the fun has just begun. His original target for the stock of 20, made when CIDCO was at 8, may be conservative at this point, he says. Surging demand for its products and a hot new Internet device, he adds, could boost the stock to 34 in a year.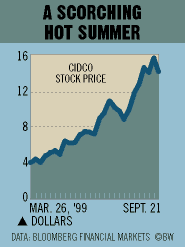 "CIDCO's recently introduced Internet appliance, MailStation, could generate major sales--as well as a recurring revenue stream," says Tanous. CIDCO has rolled out its MailStation to phone companies and retail channels. The MailStation is a portable device the size of a computer keyboard that enables a user, without a PC, to communicate over the Web for info services such as stock market quotes, weather reports, and sports headlines, and to send and receive e-mail. It uses a small LCD screen for writing and reading e-mail. One company that makes a rival Internet appliance is privately held Landel Telecom, whose product is called Mailbug.
CIDCO's customer base includes the Baby Bells as well as Sprint, Sweden's Telia, and Mexico's Telmex. Tanous thinks CIDCO could ship 50,000 MailStations to telcos in the third quarter and about 4,000 units to direct retailers. MailStation alone, says Tanous, could add 7 cents to 14 cents a share to earnings in the third quarter. For 1999, Tanous expects CIDCO to earn 49 cents a share on total sales of $184 million, and in 2000, earnings of $1.05 on $232 million. These estimates may be low, he adds, if MailStation tops expectations.