Betting That Even Beijing Can't Control Cyberspace
As China threatens, foreign Net investors plow ahead
Paul C. Judge
Can China's internal politics slow down the Internet? Not likely, if the biggest names on the Web don't blink. And it looks as if they won't. Despite a high-profile warning to would-be foreign investors in mid-September, on Sept. 23, David S. Wetherell, chairman of Internet holding company CMGI Inc., was scheduled to announce a $350 million joint venture with Hong Kong-based Pacific Century CyberWorks (PCCW) aimed at selling Web content and e-commerce services to the exploding Chinese Internet market. On Sept. 28, America Online Inc. is expected to announce its own foray into China--from Hong Kong, for now. "By 2005, China will have the largest number of Internet users in the world," says Wetherell. "We have to be there."
The CMGI move comes just as one of China's most canny politicians has reiterated a ban on foreign investment in Internet companies. On Sept. 14, Information Industries Minister Wu Jichuan gave notice that China will begin enforcing the ban in order to reserve the rapidly growing market for purely Chinese companies. He also hopes to tighten government control over the information flowing into China over the Net.
While the pronouncement was clear, its true meaning was anything but. One sign that the crackdown may be more political than practical is the nature of the CMGI deal. Wetherell's partner, Richard Li, the son of Hong Kong tycoon Li Ka-shing, has legendary connections to China's power elite. So the fact that he's willing to go ahead may show that Beijing's ban won't last.
"TRIAL BALLOON." Still, Wu's Sept. 14 announcement rattled foreigners. The shares of China.com, a Chinese-language Web portal backed by Sun Microsystems, AOL, and Bay Networks, plunged by a third on the Nasdaq exchange, falling from 82 on Sept. 10 to 53 on Sept. 15, before rebounding. Since then, Internet execs have concluded that Wu's announcement was perhaps aimed less at choking off foreign investment than at sending a political signal at home. The crackdown by Wu, a strident protectionist after all, came just after President Jiang Zemin had met with President Clinton to try to restart China's bid for entry to the World Trade Organization. "It sounds like a trial balloon," says an executive at one U.S. company with Internet investments in China.
In any case, the money hasn't stopped flowing toward China Internet deals. On Sept. 16, just two days after the Wu announcement, Intel Corp. said it will develop an e-commerce service for China in partnership with Sohu.com based in Beijing. AOL CEO Stephen M. Case is scheduled to visit Hong Kong on Sept. 28 to launch AOL's first Chinese-language service. Most analysts view it as a staging point for AOL's eventual push into China itself, although AOL executives insist they aren't looking beyond Hong Kong now. It's a touchy issue because AOL is also an Internet service provider. And while the Chinese have been vague about content companies coming in, they've made it clear that they don't want foreign ownership of ISPs. That's why AOL and many other foreigners are staging their invasion of the mainland Internet market via phone lines from Hong Kong and elsewhere.
Still, many Western Net outfits are betting that the Chinese won't follow through on their threat. Content companies, in particular, feel they're on solid ground no matter what. China.com's initial public offering on July 12, raising $84 million, sent a signal to both Chinese officialdom and foreign Net companies that China's Internet sector was heating up. In July, its daily page views were up 30% over June, to 1.3 million. Second-quarter sales have more than doubled to $1.4 million compared with one year earlier. "We see our investment in China.com as a great place to be and to watch developments in China's Internet," says Ann Brackbill, a spokeswoman for AOL, which owns 10% of China.com.
STRATEGIC BASE. Now with AOL and the CMGI alliance, the momentum should accelerate. CMGI's deal is designed to give it a strategic base in Hong Kong to sell throughout Asia--but especially in China--CMGI's array of Internet advertising and user-profiling services, its Alta Vista portal, and online communities such as Ancestry.com. The deal, which is expected to involve a stock swap giving CMGI about 5% of Li's CyberWorks in exchange for 3.8% of CMGI, would grant CMGI rights to invest up to 25% in any CyberWorks deal. Li's goals for CyberWorks are ambitious. Next year he plans to launch a TV service using satellites and cable to reach 110 million households in Asia and the Middle East. The next step, slated to begin in 2001, would be hooking up broadband Internet access, with content and e-commerce services provided by CMGI, among others. In late September, DaimlerChrysler Aerospace signed on to a CyberWorks joint venture which plans to spend $1.5 billion by 2002 on satellites and earth-based gear to service the broadband venture.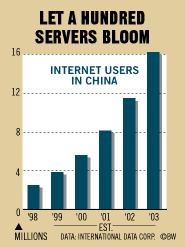 Even if Wu's ban holds, Beijing can't stop the foreign invasion--short of cutting phone wires. Many of the early Chinese-language Net companies, such as Sina.com, and China.com, have built a big business on the mainland already, with their servers and corporate headquarters based safely offshore. "It's very hard to impose this ban if Wu wants to go through with it," says one Beijing-based analyst.
The last word will likely be Jiang's, and China Internet watchers expect him to show more support for an open investment policy. If he wants to move China onto Internet time, he'll have to.
Before it's here, it's on the Bloomberg Terminal.
LEARN MORE